STEVE'S PERSONAL PATH TO SUCCESS

For Steve Allen, an interest in cooking began as a six-year old helping his mom prepare meals for their large family. Deciding that this is what he wanted to do for a living, Steve began work at Southfield's prestigious Golden Mushroom restaurant in 1983 at the lowest link in the food chain – a Garde Manger preparing cold foods, including dressings, salads and sandwiches.
Within five months Steve moved up to the position of Lounge Cook, preparing all hot and cold food items for the lunch service. At the same time he began three years of study in the American Culinary Federation Apprenticeship Program offered exclusively at Oakland Community College's Culinary Studies Institute. "I was impressed with the seriousness of the program and the staff's dedication to creating culinary professionals," Steve says.
As his skills and experience grew, Steve moved into increasingly more responsible positions – Saucier, Night Chef and Chef de Cuisine. Ultimately, he was named the Golden Mushroom's Executive Chef, directing all food operations, a staff of 22 cooks and chefs, a $1 million annual grocery budget, and recipe development responsibilities for a menu that has achieved national acclaim.
In 1998 Steve realized a lifelong dream. In partnership with fellow OCC graduate Charles "Rocky" Rachwitz, the two opened their own restaurant, Steve and Rocky's, in Novi. In five years of operation Steve and Rocky's has established a firm reputation as one of the Metropolitan area's finest dining spots, specializing in fresh fish and seafood, poultry, aged steaks, duck, veal and pastas.
It's been a long road, but Steve has finally reached the destination he's dreamed of.
BLEND PLANNING, PASSION AND A COMMITMENT TO CUSTOMER SERVICE

Pontiac businessman Jim Lang, a 1984 OCC graduate, has an attitude about life that's led him down an interesting career path...and into several businesses that he and his two partners currently operate.
Lang's OCC years began in 1969. An admittedly poor student in high school, he enrolled in OCC's hospitality program, but college didn't prove to be an experience much better than high school. When his money and enthusiasm ran out in 1970, Lang quit school and spent the next five years holding down six different jobs in three states, including management trainee in a chain restaurant, maitre d' in a night club and management trainee in the cafeteria of Illinois Bell's Chicago offices.
The variety of jobs served Lang well. On the basis of his work experience he was hired by Hospital Dietary Service (HDS) in 1976. Over the course of nearly two decades he advanced to positions of increasing responsibility, eventually becoming Director for Food and Nutrition Services for Grace Hospital (part of the Detroit Medical Center), overseeing a staff of 65 and a budget of $2.9 million.
"A year after joining HDS, I reconnected with two of OCC's Hospitality faculty members, Robert Zemke and Lawrence O'Keefe, who kept urging me to finish my associate's degree" says Lang. He did return to OCC and, as he describes it, "something finally clicked. I found that I had learned how to study and acquired the discipline to do it." Lang also discovered that he really liked school, going on to complete a bachelor's degree at St. Mary's College in 1992 with a grade point of 3.85.
During an exit interview – part of St. Mary's graduation process – academic advisor James Wargel (who was also one of Lang's teachers) astonished his former student with some observations about Lang's entrepreneurial attitude throughout school. Dr. Wargel described Lang as an "interpreneur" – someone who works as an entrepreneur within a company owned by someone else. "He also told me what he thought I really wanted to do, own my own business," Lang remembers. "I pondered over that for a while and finally decided he had a point."
Over the years Lang had worked alongside two sisters and gotten to know them well. In 1994, the three decided to open a catering business, Randy's Unique, in Pontiac. But Lang didn't quit his day job. Instead, he and his family began to prepare for the day when he could devote himself full time to the new venture. Gradually, they tucked away enough money to pay for a year's household expenses and establish the children's college fund. Lang's wife, Beth, took a job to bring in extra cash, and to obtain health care benefits. Finally, in September, 1999 Lang left DMC to devote himself to the business.
Seeing opportunities for growth, the partners transformed their business into Unique Food Management, Inc. (UFM) a catering firm that now serves 2,300 meals a day to three Pontiac charter schools, Pontiac Meals on Wheels, Pontiac Headstart, and GMAC Mortgage Company in Troy. Through an affiliation agreement with the Baker Group of Grand Rapids, Lang and his partners also serve as consultants on food management and facility design to hospitals and schools.
In addition to heavy involvements in his companies' activities, Lang has made time over the years to give back to the community. Among the organizations with which he has worked are the Boy Scouts, Camp Oakland Boot Camp and the "Paint the Town" restoration project.
In recognition of Lang's many contributions to OCC and the community, the college named him Outstanding Alumnus for the year 2000. But Lang's school days at OCC aren't over yet - he plans to sign up for some "postgraduate" courses in computer- aided design at the Auburn Hills Campus when he can find the time. "Learning CAD will enable me to do kitchen design layouts more quickly and efficiently," Lang says, "so the time I invest now will save me more time in the future."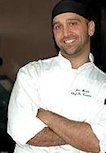 Chef Joey Beato
is nephew to Chef Joe and an Oakland Community College Culinary Graduate. He was the Chef de Cuisine at Il Centro. Working with his uncle, he experienced the excitement of creating great tasting Italian dishes.
With the sale of Il Centro, Joey traveled to Italy and worked at Café Veneto in Rome, one of the upscale restaurants in Rome. He worked there eight months familiarizing himself with the flair of central and southern Italian cuisine.
Now teamed with his uncle, he is matching his culinary training with the creation of authentic culinary cuisine.