Susan E. Anderson | Treasurer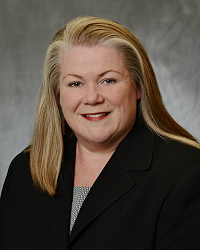 Susan E. Anderson serves as Treasurer of the Oakland Community College Board of Trustees. Elected to the board in 2016, her extensive accounting experience has served her and the College well in this capacity.
In 2004, Ms. Anderson became the owner and managing member of SE Anderson & Associates, LLC, which provides computerized accounting, bookkeeping and tax services to small and medium sized businesses. The company offers tax planning and return preparation, general ledger and financial statement preparation, selection, installation, and setup of computerized accounting software.
Prior to starting her own firm, Ms. Anderson was associated with a local certified public accounting firm as office manager, network administrator, and eventually director of information technologies.
Ms. Anderson's approach to life is guided by Ghandi's statement, "You must be the change you wish to see in the world."
Community & Professional Leadership
Board Member, OUR Credit Union
Member, Michigan Association of CPAs
Member, National Society of Tax Professionals
Education & Credentials
Master of Science in Accounting, Walsh College
Bachelor Degree in Business Administration, Walsh College
Career Highlights
Enrolled Agent with the Internal Revenue Service