John P. McCulloch | Chair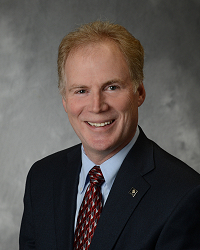 John P. McCulloch, CPA, JD, was elected to the Oakland Community College Board of Trustees in 2014 and was named Chairman of the Board by his fellow Trustees in 2017. Mr. McCulloch is a seasoned, strategic and results-focused professional with an extensive background in operations and budgets. He specializes in financial and strategic planning, merger and acquisitions and contract negotiations. He is an executive consultant for APM Enterprises in Royal Oak, where he advises companies and municipalities regarding acquisitions, business development, organizational alignment and improvement and fiduciary compliance.
Mr. McCulloch served as Commissioner on the Oakland County Board of Commissioners for 10 years, five years as Chairman of the Board. He later served as Oakland County's Water Resources Commissioner for 10 years, where he managed and coordinated complex major public works programs and all aspects of critical facilities operation and maintenance, encompassing storm water, wastewater and drinking water systems. Mr. McCulloch also was the Executive Director of the Huron Clinton Metropolitan Authority, where he oversaw a five-county regional park system encompassing nearly 25,000 acres and serving about nine million visitors annually.
Mr. McCulloch's career has been dedicated to using his knowledge of finance and operations to control costs and improve services to better the communities he serves.
Community & Professional Leadership
Director, Michigan Community College Association
Director and Past President, Michigan Association of Counties Service Corporation
Chairman, Michigan Protection and Advocacy Services, Inc.
Past Member/Chairman, Oakland County Parks & Recreation Commission, Environmental Advisory Rules Committee, American Society of Civil Engineers, Standards Committee on International Border Water Quality, Southeast District of the Michigan Association of County Drain Commissioners, Oakland County Audit Committee, Oakland County Retirement/Deferred Compensation Board
Education/Professional Development
Juris Doctor, Detroit College of Law
Bachelor of Accountancy, Walsh College
Certified Public Accountant, State of Michigan Licensed
Attorney, State of Michigan Licensed
Real Estate Broker, State of Michigan Licensed
Career Highlights
As Water Resources Commissioner:

Spearheaded the negotiation and completion of the attainment of a major interceptor system involving Oakland and Macomb Counties and the City of Detroit
Acquired the City of Pontiac's wastewater treatment facility for $55M serving 12 surrounding communities
Instituted prudent fiscal policies and implemented a balanced three-year rolling line-item budget saving taxpayers millions of dollars in operational and capital projects

As Executive Director of Huron Clinton Metropolitan Authority:

Significantly reduced the need for outside counsel
Initiated the implementation of a new ERP system, employee development plans and annual review for all employees
Enhanced the Metroparks financial condition