OAKLAND COUNTY, Michigan — Nearly a century ago, with the sense of both pride and loss in the aftermath of World War I still vivid in the national conscience, President Woodrow Wilson spoke of the "solemn pride in the heroism" of those who served this country. Over the 100 years that followed, they would not be the last to serve.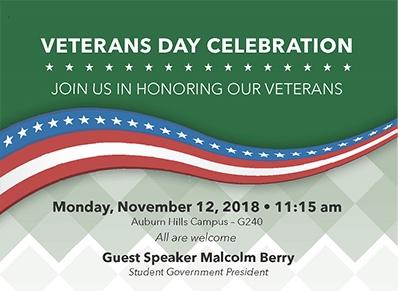 Nearly 100 years to the day that the guns were silenced, bringing an end to what was then called "the Great War," Oakland Community College will commemorate the service and sacrifice of our nation's veterans — and by extension, the veterans who are now part of the college community.
OCC students, faculty, staff and members of the community and guests are invited to a Veterans Day commemoration at 11:15 a.m. Monday, Nov. 12, in room G-240 of the Auburn Hills campus, featuring remarks by speakers including Malcolm Berry, president of the OCC student government — and himself a veteran of the U.S. Marine Corps.
As part of the commemoration, veterans will receive a token of appreciation after the ceremony. And as a poignant reminder of what Veterans Day represents and celebrates, the event will include a reading of a poem written by Canadian surgeon John McCrae upon the death of a friend, who was summarily buried in makeshift grave in Belgium — "In Flanders Fields."
Besides a celebration of national service, this Veterans Day commemoration is another expression of OCC's commitment to serving veterans. In late 2017, the college was awarded Gold Veteran-Friendly status by the Michigan Veterans Affairs Agency for its commitment to supporting the needs of student veterans and dependents.
OCC participates in six veterans educational benefits plans with most college programs approved by the Veterans Administration for enrollment. You can learn more about veteran services at OCC here.
You can register here to attend Oakland Community College Veterans Day Celebration. Please RSVP by October 26
For information or if you have questions, contact Laurie Huber at lghuber@oaklandcc.edu.
About OCC - With five campuses in Oakland County, OCC is Michigan's No. 1 transfer institution, offering nearly 100 degrees and certificates. The College empowers academic and developmental experiences, allowing students to reach their potential and enhance their communities. More than 1 million students have enrolled in the college since it opened in 1965. Learn more at oaklandcc.edu.
###
Media Contact: Marketing & Community Relations | 248.341.2020 | contactus@oaklandcc.edu