Follow These 7 Tips Before Using Your Fireplace
Now that the weather is charging full speed into winter, the fireplace season is heating up and many homeowners are lighting real or gas logs for the first time since spring. But before you gather the family around the fireplace, you should make sure it is not going to be a fire hazard.
The U.S. Consumer Product Safety Commission, cpsc.gov, estimates that 22,300 structural fires annually in the U.S. were the result of fireplace chimney problems.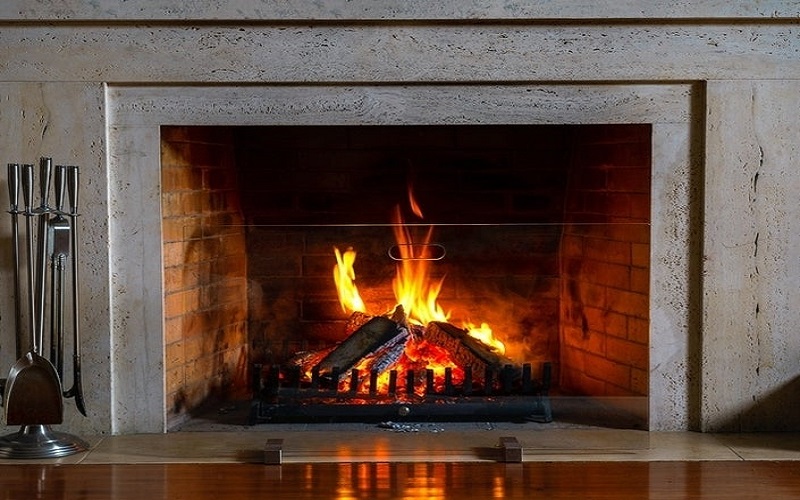 Anthony Sweet at Oakland Community College's Fire Training Institute said the fireplace is often neglected when it comes to winter maintenance.
"Too many people light their fireplace this time of year without ever performing any safety maintenance on it, and that can lead to serious consequences," he said.
To eliminate the potential for disaster when using a fireplace, Sweet recommends following these seven tips before you use it for the first time this season:
1. Have Chimney Cleaned and Inspected: If you have a wood-burning fireplace, you should have your chimney cleaned and inspected annually by a licensed chimney specialist to get rid of the soot and creosote that builds up and make sure there are no other issues, such as cracks or dislodged bricks that need to be repaired.
2. Open the Flue: Before you light a fire, make sure your chimney's flue is open to ensure the fireplace will vent properly.
3. Use Dry Wood: Make sure the wood you burn is dry, because wet wood can increase creosote buildup and result in a chimney fire.
4. Use a Fireplace Screen: Make sure you have a metal fireplace screen, or metal mesh curtains, in front of the fireplace opening when burning wood so that sparks and hot embers can't escape and start the carpet or furniture on fire.
5. Gas Fireplaces Need Maintenance Too: A gas fireplace requires the same maintenance as a wood burning fireplace. Make sure you have your chimney cleaned and inspected annually, and have your gas pilot light and other elements inspected and cleaned regularly to avoid carbon monoxide poisoning. And don't forget to open the flue before turning the gas logs on to allow any unburned gas to vent up the chimney rather than in your home.
6. Don't Forget the Fire Extinguisher: It is always a good idea to have a fire extinguisher available whenever you are using the fireplace. But make sure it is in working order by checking the pressure gauge to ensure it is in the "green," and that the safety pin is intact and the nozzle unobstructed. You may also want to add a portable aerosol fire extinguisher as an added precaution.
7. Never Leave Fire Unattended: Never leave a fire in a fireplace unattended. Before leaving the house or going to bed, you should make certain to fully extinguish the fire or to completely turn off the gas logs.
"A small chimney fire can reach into the attic and cause a serious fire, and gas fireplaces can leak deadly carbon monoxide," said Sweet, an instructor at OCC's Fire Training Institute. "That's why it is so important for homeowners to have their fireplace cleaned and inspected annually to ensure they can safely use it this winter. That includes the fireplace many people have at their cottages, because too often it is an afterthought when it comes to maintenance."
Sweet said 22 cadets recently graduated from the OCC Fire Training Institute's Basic Fire Academy, and that the majority of these cadets already have positions with area fire departments.
The full-time Basic Fire Academy is an eleven week training program that is offered twice a year. The next academy begins Feb. 24, 2019 and runs through May 8. Instruction is held Monday through Friday for eight hours per day and is held on OCC's Auburn Hills Campus. For more information about OCC's Fire Training Institute, visit https://oaklandcc.edu/crest/fire/default.aspx.
About OCC
With multi campus system in Oakland County, OCC is Michigan's number one transfer institution, offering nearly 100 excellent degrees and certificates. The College empowers academic and developmental experiences, allowing students to reach their full potential and enhance the communities they serve. More than a million students have enrolled in the College since it opened in 1965. Learn more at oaklandcc.edu.
###
Media Contact: Marketing & Communications | 248.341.2020 | contactus@oaklandcc.edu