Performances January 31 and February 1, 6, 7 and 8 at Royal Oak campus
OCC's Winter Theatre Production at its Royal Oak Campus will feature reproductions of museum pieces from the Detroit Institute of Arts and alumni of the popular program, alongside students for a great evening of entertainment. The replicated artwork is a continuation of the DIA's partnership with OCC, bringing world-class art to students and the community.
The live performance of "The Shape of Things," is the story of a chance meeting between shy and malleable Adam, and analytical and seductive Evelyn. The encounter leads to an intense relationship, emotional exploitation and the exploration of basic human dignity and fundamental moral character.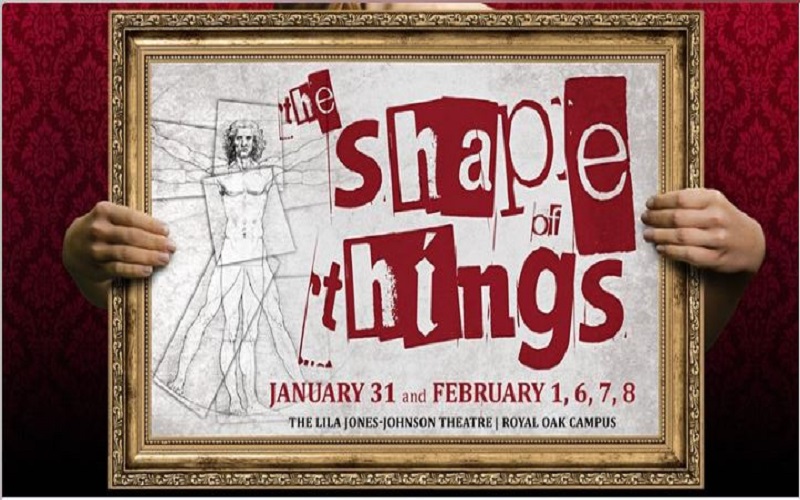 Described as a "modern version of Adam's seduction by Eve," the story pits four students at a small Midwestern college against a backdrop of friendship, fiendish behavior, fealty and questions if the ends always justify the means. Written for the stage by Neil LaBute, he later directed the movie version starring Paul Rudd, Rachel Weisz, Gretchen Mol and Frederick Weller.
Dennis North, OCC theatre program director proudly welcomes back to the stage Ashley Croft, Chris Burns, Allison Mergroet and Phil DeVone—all OCC Alumni who are currently pursuing successful acting careers in stage, film, commercial and voiceover work.
"'The Shape of Things' is a cutting, thought-provoking exploration of the lines some cross in the name of 'art' and others blur in the quest to be accepted and loved. Neil LaBute's play takes a contemporary and harsh look at the layers of treachery involved in manipulating another's will to your own," he said.
The January 31, and February 6 and 7 weekday performances are at 8 p.m. and the February 1 and 8 Saturday performances are at 2 p.m. All performances will be at the Lila Jones-Johnson Theatre on OCC's Royal Oak campus, 739 S. Washington Ave., Royal Oak, Mich. 48067. This production features adult material, content and language, and is not appropriate for children.
General admission tickets are $15 and $5 for college students and seniors 62 or older. High school students can reserve their free tickets by emailing contactus@oaklandcc.edu. For more information or to purchase tickets online, visit https://www.eventbrite.com/e/the-shape-of-things-tickets-70457280623.
Save the date for OCC's Spring Production.
Be sure to also mark your calendar for March 27, 28, Apr. 2, 3, or 4 for the OCC Theater Program Spring Production, "Silent Sky" by American playwright, screenwriter, and short story author Lauren Gunderson. Gunderson, recognized currently as America's most produced living playwright, explores the true story of 19th-century astronomer Henrietta Leavitt, and a woman's place in society during a time of immense scientific discoveries, when women's ideas were dismissed until men claimed credit for them. For more information about OCC's Theatre program, visit https://oaklandcc.edu/programs/the/default.aspx.
About OCC
With multi campus system in Oakland County, OCC is Michigan's number one transfer institution, offering nearly 100 excellent degrees and certificates. The College empowers academic and developmental experiences, allowing students to reach their full potential and enhance the communities they serve. More than a million students have enrolled in the College since it opened in 1965. Learn more at oaklandcc.edu.
###
Media Contact: OCC Marketing & Communications | 248.341.2020 | contactus@oaklandcc.edu