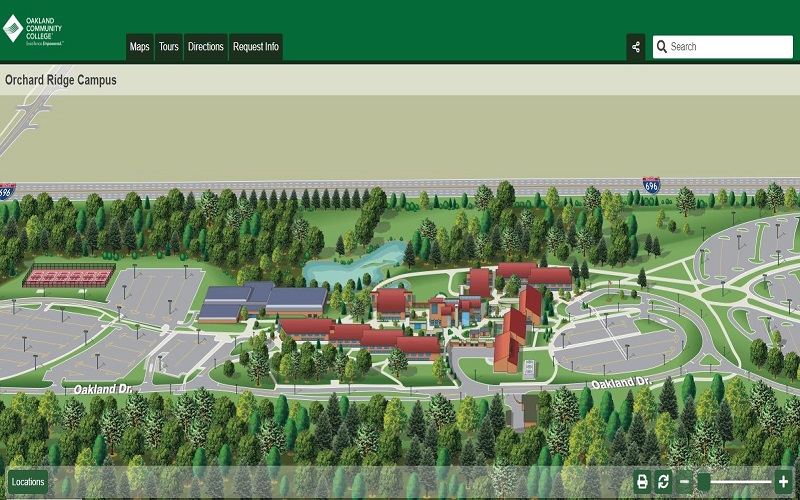 Interactive platform benefits visitors and students with information to navigate multi-campus system
Finding the right building or the best place to park on a college campus can be challenging, especially for new students and visitors. OCC has made it easier with Virtual Tours and Maps to find classrooms, student centers, bookstores and even a good cup of coffee on any of the College's multi campus system in Oakland County.
Maps are one of the most visited pages on the OCC website. The new Virtual platform provides detailed information with interactive 360-degree tours of each campus and each building with student-narrated video tours of key facilities.
OCC student Katherine Lichtenberg said when she was a new student, she took a cell phone photo of a map hanging on the wall of the Auburn Hills campus to help find her way on campus. "These new interactive maps will be a great help especially for new students trying to find their way around the campus," she said.
"The Google maps we were using are not kept up to date and can be difficult to use," said Michele Kersten-Hart, OCC manager of multi-media and web services. "They don't provide the level of detail needed by students and visitors. Our new online maps continue to provide directions to each of our campuses but now offer so much more information in an easy-to-navigate, visually interactive way."
OCC worked with CampusTours, a national multimedia provider, to develop this next level of mapping software, which also features online guided tours. When students and visitors click on an OCC building in the virtual 3-D map, they get a description of key areas, a room directory, photos and, in some cases, a 360 degree video of featured areas. The new maps also provide information on specific OCC academic programs located on those campuses and a direct link to the program page on the OCC website for more information.
OCC Auburn Hills' campus bookstore, student-worker, Rachel Foltz, said she uses the new virtual maps to help answer questions from students about where certain buildings are on campus. "It is much easier to show students where things are now with these new maps than it was using the old basic maps," she said.
While these virtual maps and tours are a navigational benefit for current students, they also assist OCC Admissions coordinators to provide details about each campus and the college's programs to prospective students. The coordinators can now provide students with detailed visual images of the campus they are likely to attend, based on their academic program interest or geographic proximity from home or work.
Videos with students pointing out the features of each campus and virtual 360 degree photo tours of buildings give students the feeling they are actually on campus. It also helps increase the time that prospective students interact on the website.
"These virtual maps and tours are an excellent way to introduce prospective students, parents and high school counselors to OCC when we are out at college events, recruiting fairs and high schools," said Keith Pawlovich, interim director of admissions. "The virtual maps and 360 degree virtual tour showcases our campuses in a way words simply can't."
To view the Virtual Tours and Maps, visit Maps.
Winter semester classes at OCC begin Jan. 13, 2020. Online registration is currently available online at https://oaklandcc.edu/open-door/registration.aspx. Final registration ends Jan. 12, 2020 and Winter Semester classes begin Monday, Jan. 13, 2020.
About OCC: With multi campus system in Oakland County, OCC is Michigan's number one transfer institution, offering nearly 100 excellent degrees and certificates. The College empowers academic and developmental experiences, allowing students to reach their full potential and enhance the communities they serve. More than a million students have enrolled in the College since it opened in 1965. Learn more at oaklandcc.edu.
###
Media Contact: OCC Marketing & Community Relations | 248.341.2020 | contactus@oaklandcc.edu