Winter Term 2020 registration at OCC begins online Oct. 28, and students now have an easier way to register for classes thanks to the college's new mobile app.
College students live a ubiquitous mobile world and are used to finding information and purchasing items on their phones before you can say "Siri." The free OCC Connect app was designed to meet this demand.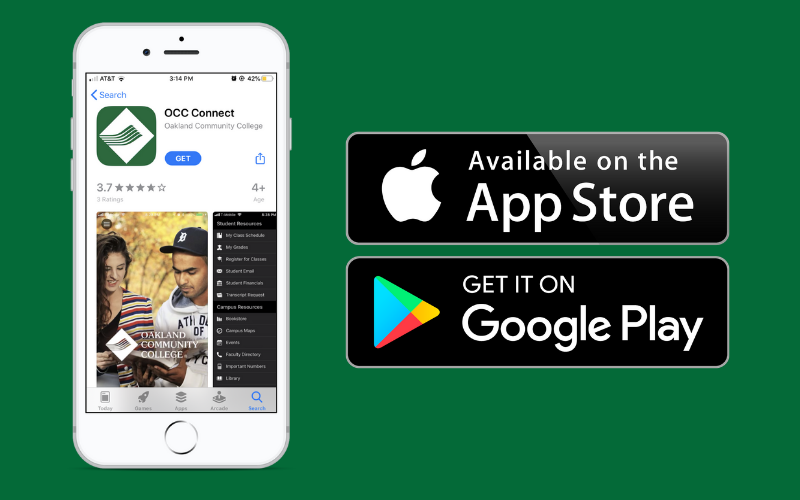 Now students can navigate through a wealth of information on the OCC website to find exactly what they need. They can simply open the app on their mobile devise, sign in with a MyOCC account and register for classes, access their course schedule, view grades, make payments and more.
In addition to providing quick access to student resources, the app keeps students connected to the college: they can easily contact faculty and staff members, access the calendar of events and activities and follow OCC on social media all from their phone. The Maps feature helps students find their way around campus and showcases what's nearby including important resources such as convenience stores, coffee shops and gas stations.
Other app features include:
- Student Email
- Transcript Request
- Library Services
- Student Helpdesk
- Contact Public Safety
The OCC Connect app can be downloaded on the Apple App Store and the Google Play Store, and is compatible with iPhone, iPad, Apple Watch and Android devices.
For current students, priority Winter Term 2020 registration is available Oct. 28 and 29. For new and prospective students, Open Registration begins Oct. 30 and runs through Jan. 12, 2020. Winter Term classes begin Jan. 13, 2020.
For complete Registration information, visit https://www.oaklandcc.edu/open-door/registration.aspx or call OCC at 248.341.2000.
About OCC
With multi campus system in Oakland County, OCC is Michigan's No. 1 transfer institution, offering nearly 100 degrees and certificates. The College empowers academic and developmental experiences, allowing students to reach their potential and enhance their communities. More than 1 million students have enrolled in the college since it opened in 1965. A seven-person Board of Trustees governs OCC. Board members are elected on a non-partisan, at-large basis, serve as volunteers and are not paid. Mission statement: OCC is committed to empowering our students to succeed and advancing our community. Learn more at oaklandcc.edu.
###
Media Contact: Marketing & Communications | 248.341.2020 | contactus@oaklandcc.edu