Return to Campus
Chancellor Message: Welcome Back to Campus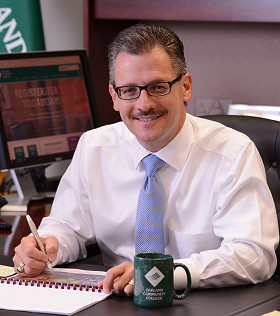 Peter M. Provenzano, Jr. Chancellor
We are excited to welcome you back! We know COVID-19 turned all of our lives upside down. It has impacted each of us deeply and has transformed how we live our daily lives.
OCC is no exception. What hasn't changed, though, is our commitment to serving students.
We've learned to serve you in new and better ways. This is a work in progress, and sometimes it's not perfect. We've listened, used what we've learned, pivoted quickly when we needed to, and stayed focused on ensuring your educational success and safety. It is our top priority.
As OCC returns to campus this fall, you'll see new hand sanitizing stations, ongoing updates to water bottle stations, plexiglass shields to protect both employees and the public, changes in our restrooms, and signs across all of our campuses to help us stay healthy.
It takes everyone working together to keep our campuses safe and healthy.
Following federal and state guidelines, we strongly recommend you consider getting vaccinated, wear a mask, wash and sanitize your hands frequently and stay home when you are not feeling well.
Moving forward
A return to campus is not a return to the past. Our focus is on moving forward in new and exciting ways.
Since March 2020, we lived by our mantra, "Together, we've got this." We worked hard to ensure our students stayed on track by upgrading our technology infrastructure; building new science and math areas ahead of schedule; providing rigorous training for faculty and staff; and continuing to challenge our long-standing academic and student services' delivery models with an eye on the future.
Today, we remain proud you have chosen OCC to pursue your goals. We are excited about our future together.
Peter M. Provenzano, Jr.
Chancellor