Kathleen A. Bertolini | Vice Chair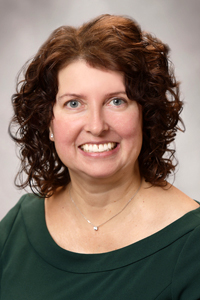 Kathleen A. Bertolini is a Workday Change Management Lead for the Higher Education and Government Spaces at Accenture. Kathleen was able to make a successful career change coming to the corporate world from a long tenure of public service. She began her service as a public middle school teacher with over 25 years public school teaching experience and moved to county government to train the workforce. Accenture took notice of her skills and invited Kathleen to join their team in 2021. Kathleen has a proven track record of educating people of all ages, while providing strategic thought to make successful change a reality.
Over the course of her career, Kathleen has had the opportunity to share her expertise on instruction at several conferences across Michigan and the Great Lakes region. In her role at Accenture, she continues to share her instructional expertise with higher education systems all over the country. In her professional leadership roles, she has been successful in initiating new programs for both students and educators. Further, she challenges and supports her teams in elevating the development and delivery of highly-effective instruction.
Kathleen has been fortunate to have interacted and taught students of different nationalities, cultural backgrounds, races, ages, socioeconomic levels, and ethnicities. In her trustee role, she has helped guide the college regarding its mission, values, and vision.
Community & Professional Leadership
Advocate for public education and literacy
Active volunteer at state and local events, including Brooksie Way Half-Marathon, Arts, Beats and Eats, and Adopt-a-Highway Program
Education
Master of Education, Oakland University
Master of Arts in Teaching, Oakland University
Bachelor of Arts in Elementary Education, University of Michigan-Dearborn
Career Highlights
Chairperson, Social Studies Department, Abbott Middle School
Educational Liaison, District Curriculum Council, West Bloomfield School District
Vice Chairperson, Oakland Community College Board of Trustees