Shirley J. Bryant | Treasurer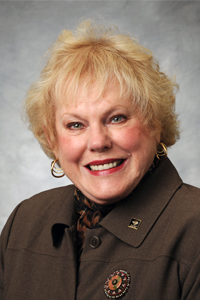 Shirley Bryant has been on the Oakland Community College Board of Trustees since 2008 and has served as chair and vice chair.
Ms. Bryant is a retired Executive Director of Community Relations for Birmingham Public Schools. In 2007, Ms. Bryant was inducted into the Eastern Michigan University College of Education Hall of Fame. This was a result of her long-standing commitment to education in the community. She also has received other awards including "The Athena Award" by the Birmingham-Bloomfield Chamber of Commerce and named a "Woman of Achievement" by the Anti-Defamation League.
During her long-standing educational career, she also served as Community Education Coordinator, adult education teacher for the Troy Public Schools and an English teacher. In addition, she was an adjunct faculty member for the University of Michigan-Dearborn.
Community & Professional Leadership
Director, Oakland Community College Foundation
Chair of the Board and Director, Orchards Children Services
President and Director, Rotary Club of Birmingham
Co-Founder and Director, Birmingham Area Senior Coordinating Council & Center
Co-Founder, Birmingham Area Task Force for Race Relations and Diversity
President and Director, National Community Education Association
Member, National School Public Relations Association and Michigan School Public Relations Association
Education
Bachelor of Arts in English and Education, University of Florida
Master of Art in Educational Leadership and Community Education, Eastern Michigan University
Post-graduate studies, Eastern Michigan University
Leadership Detroit graduate, Class VII
Career Highlights
Inducted into Eastern Michigan University College of Education Hall of Fame, 2007
Awarded "The Athena Award" by Birmingham-Bloomfield Chamber of Commerce
Named a "Woman of Achievement" by the Anti-Defamation League