OAKLAND COUNTY, Michigan — Noting his love of watches during his inauguration address as Oakland Community College's ninth chancellor, Peter M. Provenzano, Jr., told an audience of academic, business and community leaders from across the region that on his watch, it will be OCC's "time to shine."
"I believe OCC is destined to be the first choice for a whole new generation of students who follow traditional and not-so-traditional paths," Provenzano told the audience gathered Thursday, September 27, at the Smith Theatre on the OCC Orchard Ridge Campus in Farmington Hills.
"We want to educate more of these future leaders than ever before. Students from diverse backgrounds who are willing to give us their very best, who are looking for the opportunity to excel in today's complex and interconnected world.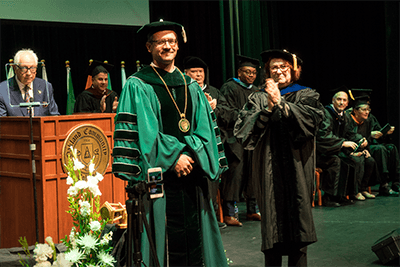 "This is precisely….why I was so drawn to Oakland Community College. This college plays a crucial role in this region's success by improving lives in our community."
Before Provenzano's address capped off the ceremony, the first formal installation of an OCC chancellor in 20 years, a procession of speakers representing the entire college community rose before the lectern to praise the efforts that the new chancellor already has undertaken since his appointment by the OCC Board of Trustees on Jan. 1.
The Chairman of the Board of Trustees, John P. McCulloch, praised Provenzano for "the renewed focus on creating and fostering positive relationships, raising the morale, climate and culture at OCC to new heights. … I can't tell you how many times I have been at business functions, public meetings and local events and have heard 'OCC is back.' "
Jahquan Hawkins, the College's Dean of Student Services, said Provenzano "has encouraged and modeled a team-oriented spirit where employees, regardless of work group, can be partners in furthering student achievement."
Providing an example of that team spirit, John Mitchell, chairman of the college Academic Senate, noted that "for the first time in many years, the chancellor of the college could actually be seen at college senate meetings and could be encountered in the hallways of the multi campus system! … Peter's vibrant example is effecting positive changes every day here."
But after the speakers hailed the efforts of one man, that one man began his remarks by hailing the efforts of the many whose support put him there. Provenzano acknowledged family and friends and mentors ranging from Macomb County Executive Mark Hackel to his Uncle Doug, "who mentored me when I was a young accountant" fresh out of college.
Moving beyond his personal story to that of the college, now in its 54th year, Provenzano said: "At no other time in our history do we see more innovative college initiatives such as new ways of teaching and delivering courses, new programs to increase student persistence and completion, renewed energy for whole new ways of looking at the world through unprecedented partnerships and collaborations with business, government, community organizations and higher education — and clarifying who we are through the college's first comprehensive brand campaign: 'Excellence Empowered.' "
Among OCC's resume of results, he noted:
OCC graduates' first-time pass rates on many licensed exams surpass national standards.
The college's four-year university partners enroll more OCC transfer students than any other college in the state.
Oakland County first responders are educated at the highly respected CREST emergency services training center in Auburn Hills.
The state's health care industry benefits from one of the largest nursing associate's degree programs in the nation.
Corporate partners obtain advanced technology training at the OCC Michigan Technical Education Center.
Small businesspeople learn how to identify and evaluate business opportunities through the Goldman Sachs 10,000 Small Businesses program.
Restaurants are enriched by the many top chefs who graduate from OCC's nationally recognized culinary arts program.
"All the while," Provenzano then pointed out, "our students benefit from the most affordable tuition rate in Michigan."
The 2018 fall semester marks Provenzano's first full academic year as chief executive officer. He joined the college in 2014 as vice chancellor of administrative services. Before that, Provenzano served in leadership positions in Macomb County government. He began his career at Plante Moran, one of the nation's largest accounting and business advisory firms.
And Provenzano stressed that his mission at OCC has only begun. Picking up on his affinity for timepieces, he vowed that on his watch, OCC will:
"Build on our pillars of academic excellence and empowerment to develop more in-demand programs that meet the needs of an ever-changing population and workplace.
"Reaffirm the public's trust through our honorable actions with a nonnegotiable commitment to fiscal integrity, transparency and student success.
"Enhance the student experience and ensure every student has the opportunity to participate in co-curricular activities that enhance leadership development.
"Refresh our relationship with alumni as treasured members of the OCC family.
"Improve our services and programs for veterans to make the transition from boots to books a seamless one.
"Continue to encourage a greater level of collaboration with our partners so our academic resources are put to the greatest use for the common good."
"Our vision for this college is an ambitious one," Provenzano said. "We will become the college of choice, the employer of choice and the partner of choice.
"We're the power to move minds and improve lives. The power to honor our region's tradition of persistence and innovation, to shift potential into professional, to empower a new family tradition of higher education, to dream bigger and achieve more.
"Let's be excellent in everything that we do."
To watch a video of the inauguration, visit the OCC Facebook page; to see photos of the event, visit the event Flickr album. Check back here for additional video links.
About OCC - With multi campus system in Oakland County, OCC is Michigan's No. 1 transfer institution, offering nearly 100 degrees and certificates. The College empowers academic and developmental experiences, allowing students to reach their potential and enhance their communities. More than 1 million students have enrolled in the college since it opened in 1965. Learn more at oaklandcc.edu.
###
Media Contact: Marketing & Community Relations | 248.341.2020 | contactus@oaklandcc.edu