Just ask expert OCC dispatch academy coordinator Kat Reynolds
OAKLAND COUNTY, Michigan — About the only thing simple about the nation's 911 emergency response system is that it's simple to remember. But beneath those three digits lies the foundational technology for all the public safety, homeland security and national security responses that together add up to nearly 300 million calls every year.
As the nation's communications demands increase, the 911 architecture must evolve, too. That latest iteration, known as Next Generation 911, will be rolled out state by state over the next decade at a cost estimated at $9.5 billion to $12.7 billion. States will need federal help to ensure a smooth transition and states, including Michigan, will need experts.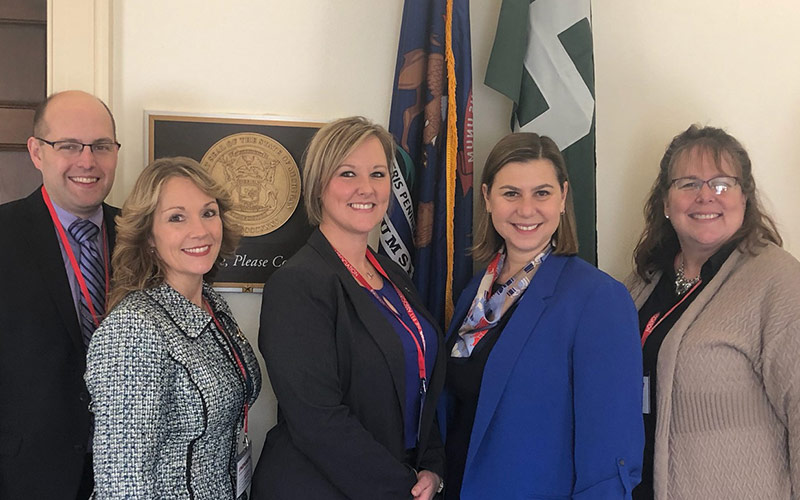 Left to right: Michael Armitage, 911 director, Eaton County; April Heinze, immediate past president, Michigan NENA; Joni Harvey, deputy director, Livingston County 911; Congresswoman Elissa Slotkin; Kat Reynolds, training coordinator, Oakland Community College 911 Dispatch Academy One of those emerging experts is Kat Reynolds, 911 dispatch training coordinator at the Oakland Police Academy on the Auburn Hills campus of Oakland Community College. Reynolds recently attended the 911 Goes to Washington conference organized by the National Emergency Number Association. During the conference, she had the opportunity to meet hundreds of others working in the 911 field as well as members of Congress.
"By speaking to staffers and representatives, we feel like we had a chance to have our voices heard, and our elected officials have put a face on the 911 industry," she said. "911 operations are often forgotten in the emergency-services world. We are the first first responder — we are on scene before anyone else, only we are there with just our voices and ears."
To learn more about the Oakland Police Academy, visit OCC's website. To learn more about NENA, visit nena.org.
About OCC
With multi campus system in Oakland County, OCC is Michigan's No. 1 transfer institution, offering nearly 100 degrees and certificates. The College empowers academic and developmental experiences, allowing students to reach their potential and enhance their communities. More than 1 million students have enrolled in the college since it opened in 1965. A seven-person Board of Trustees governs OCC. Board members are elected on a non-partisan, at-large basis, serve as volunteers and are not paid. Mission statement: OCC is committed to empowering our students to succeed and advancing our community. Learn more at oaklandcc.edu.
###
Media Contact: Marketing & Community Relations | 248.341.2020 | contactus@oaklandcc.edu