As a student in Brazil, Agatha Pinheiro says her dream to improve society was sparked at a young age. Taking classes such as history and sociology made her realize that getting involved in politics would be her path to working to fight for a better society.
"I've always been interested in social justice and making society a better place for everyone," said Pinheiro. "I always hoped one day I could help to build a society in which there's less poverty, less discrimination, more opportunities, and better access to healthcare."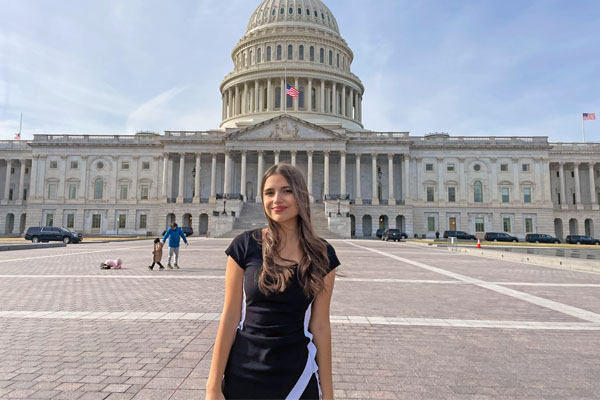 In pursuit of her goals, Pinheiro completed her first year of college in Brazil. She then moved to Michigan in 2018 when her mother was transferred to work at General Motors' headquarters. She was planning to transfer to a four-year college right away but then heard about community college as an option.
Making the choice for community college
"I was not familiar with OCC or the concept of a community college at all," explains Pinheiro. After a friend told her that she could start there and transfer later on, she was intrigued.
"I could improve my English by taking ESL classes, slowly get adjusted to college life in the U.S. taking just a few courses per term where the classes would be smaller, and I'd receive more attention from faculty compared to a four-year institution. I could then eventually transfer to get my bachelors," she said. "Once I fully understood how community colleges worked, it was a no-brainer and probably the best decision I made academically and financially to study at OCC." 
According to Pinheiro, OCC provided her with an incredible opportunity to get to know her professors as they got to know her. She credits these individuals for inspiring her and opening doors to opportunities she was not aware of as she embarked on her future career path.
Getting involved in politics and igniting others
"My ESL professor Sarah Lemelin helped me get my first political job. She introduced me to a local candidate, wrote several letters of recommendation, volunteered to review my application to dozens of academic and job opportunities, and continues to be one of my most important mentors," explains Pinheiro.
"My political science professor at OCC, Jeffrey Farrah, encouraged me to continue studying political science and was also very important deepening my understanding of politics and importance of getting involved. I truly don't know what my career would be like had I not met the amazing faculty at OCC."
Pinheiro got involved at OCC with two student organizations: Phi Theta Kappa and the International Student Club. She also started a fellowship at IGNITE, a national nonprofit seeking to increase civic engagement among young women. She thought OCC could benefit from having a student organization focused on civic engagement and got started. She was supported by Lemelin and faculty advisor Kim Reid and brought together an "amazing group of students interested in taking the challenge of starting a new organization on campus" to start an IGNITE chapter at OCC."
Lemelin says Pinheiro's profound interest in political science and public policy was evident from her first week at OCC. She recommended Pinheiro apply for U of M's Community College Summer Research Fellowship and pursue opportunities in local governance. These opportunities led to working with a policy think tank at the University of Pennsylvania, the PPIA (Public Policy and International Affairs Program) at UC Berkeley, and graduating Phi Beta Kappa from the University of Michigan this spring.
Pinheiro says it was rewarding to stay connected with OCC students and faculty even after transferring to University of Michigan.
"Working with the OCC chapter helped me develop my leadership and organizing skills. In fact, I talk about my experience with the OCC chapter all the time in job applications and interviews," explained Pinheiro. "It was very rewarding to see a group of young women, mostly from an immigrant background, learning about American politics and advocating for issues they care about."
School paves the way for legislative opportunities
Pinheiro recently finished a legislative internship with U.S. Senator Gary Peters. Her role included attending congressional briefings and hearings, writing memos to staff, researching bills and legislation, sorting constituent emails and letters, and giving tours of the U.S. Capitol. By the end of her internship, she was offered a full-time job as a legislative aide with another U.S. Senator, where she will be assisting with issues related to immigration, civil rights, judiciary and trade.
Hopes and dreams to make an impact locally
Pinheiro hopes to use her knowledge to serve people in Michigan and is appreciative of the experience she has gained learning about policy and government. She wants to take these experiences and hopes to be at the table when important decisions are made at the local level.
"I hope to return to Michigan after working in D.C. for a couple of years and run for local government since so many important decisions are made at the local level."
One thing she can count on: her friends, faculty advisors and the team at OCC will be cheering her on and encouraging her along her admirable journey. Lemelin confirmed this saying, "I am incredibly proud of Agatha and will always be one of her biggest fans."
About OCC
Oakland Community College offers nearly 100 degrees and certificates programs with the resources students need to be successful and advance our community. As a top transfer institution, OCC offers one of the state's most affordable tuition rates and flexibility in scheduling with face-to-face and online options. The College is nationally recognized for its high-demand career training with expert faculty in their fields. More than 1 million students have enrolled in the College since it opened in 1965. Learn more at oaklandcc.edu.
 ###
Media Contact: Marketing & Communications | 248.341.2020 | contactus@oaklandcc.edu