Detroit's AutoRama, also known as "America's Greatest Hot Rod Show," is an enviable showplace of custom cars, roadsters, souped-up vehicles and award-winning designs. It is a place of inspiration and envy that began nearly 70 years ago on University of Detroit's campus.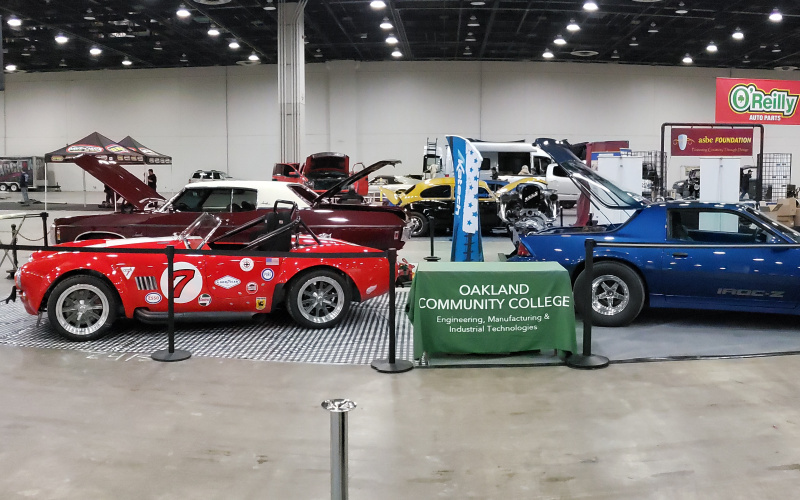 In recent years, the show has added a Student Career Day to expose students to a wide-range of industry opportunities, expert speakers and seasoned veterans. Spreading the word about OCC's automotive programs to potential students and car enthusiasts was the goal of OCC's Engineering, Manufacturing and Industrial Technologies (EMIT) team at this year's Detroit AutoRama. Mission accomplished.
Close to 3,500 students from area high schools attended AutoRama's Student Day where OCC automotive Faculty members Rick Driscoll and Claude Townsend spoke about the variety of opportunities and options in the College's Automotive Service and Collision Automotive Repair programs. Following the general session, students previewed the show before it opened to the public and met with car owners and builders, participated in interactive exhibits and talked to representatives from local colleges like OCC. OCC Admissions staff partnered with the EMIT team to talk with the students about applying to the college.
OCC alumni take the stage…and First Place
OCC's exhibit featured interactive discussions with two automotive program alums — Curtis Templeton and Greg Heirman — and a first-hand look at the two hot rods they built and restored using the knowledge they gained at OCC, experience outside the classroom and assistance from OCC's automotive faculty. Proudly, Heirman's Cobra car earned a venerable First Place in its category at the three-day event.
"Curtis and Greg graciously allowed us to share their cars, success stories and knowledge with thousands of attendees who asked endless questions about their cars and our automotive programs at OCC," said Faculty member Rick Driscoll, Collision Automotive Repair. "Having OCC alums answer questions about their experiences, personal stories and our programs is extremely relevant to this audience and carried more impact than anything OCC staff could ever say. They are great examples of the kind of success students have after completing a certificate or associate degree at OCC."
OCC's EMIT "Pit Crew" key to AutoRama success
OCC's success at AutoRama took an all-hands on deck, winning pit crew approach from EMIT faculty and staff.
"Without a doubt, AutoRama required a lot of time, effort and energy from OCC faculty, staff and even automotive students," said Jolene Chapman, Dean of EMIT. "But everyone's planning and dedication to this event really helped us make a positive impression and spread the word about OCC's automotive programs to the thousands of students and car buffs who attended."
For more information about OCC's EMIT and automotive programs, visit https://oaklandcc.edu/programs/emit.
About OCC
Offering nearly 100 degrees and certificates, OCC is Michigan's largest multi-campus community college and No. 1 transfer institution in the state. The College provides academic, career training and enriching experiences, designed to empower students to reach their potential and enhance our community. More than 1 million students have enrolled in the College since it opened in 1965. A seven-person Board of Trustees governs OCC. Board members are elected on a non-partisan, at-large basis, serve as volunteers and are not paid. Mission statement: OCC is committed to empowering our students to succeed and advancing our community. Learn more at oaklandcc.edu.
###
Media Contact: OCC Marketing & Communications | 248.341.2020 | contactus@oaklandcc.edu