A steel beam weighing more than 9,000 pounds was the focus of a "beam signing" ceremony to celebrate the construction progress of OCC's new 85,000 square-foot Science and Technology Building on the Auburn Hills campus, scheduled to be completed Fall 2021.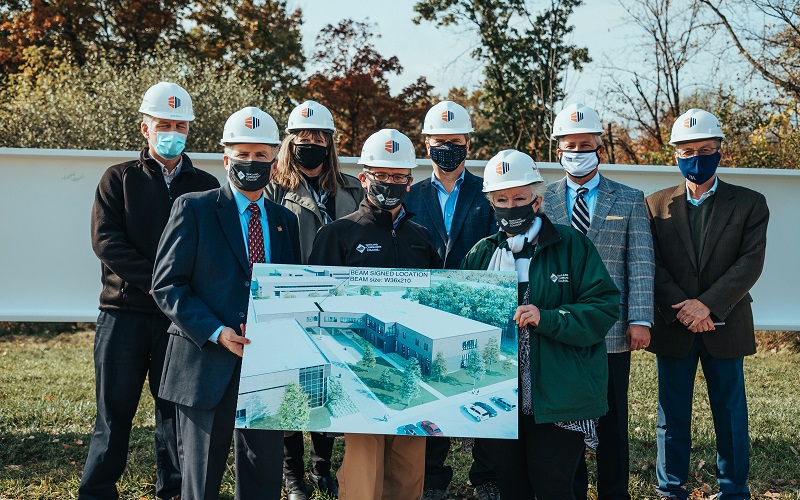 Representatives from OCC, the OCC Board of Trustees, the architect firm Integrated Design Solutions and construction management company Barton Malow Builders signed the 43 foot-long structural beam that is the largest piece of steel on the project. It will be part of the connector between the new Science and Technology Building and Building C being renovated on the College's campus.
The new 54,000 square-foot building and the renovation of the adjacent 31,000 square-foot Building C will replace the existing science and computer facilities.
"This new addition and renovation will provide us with a state-of-the-art learning and teaching environment for our students and faculty," said OCC Chancellor Peter Provenzano, Jr. "We are very excited to provide our students with one of the most advanced science labs in the state that reflects the tremendous quality of our curriculum and talent of our faculty."
OCC Board of Trustees Chairman John McCulloch said this new facility will also greatly benefit the community.
"Area businesses have indicated there is a lack of job candidates with a strong science and technology education, and this new facility will ensure OCC students receive the best STEM education available to prepare them for many of today's in-demand careers," McCulloch said.
The stars of OCC's new science and technology big house will include student-centric technology and adaptable academic spaces. The state-of-the-art, learning and teaching environment features CIS labs, a cyber-security lab and labs for microbiology, physics, biology and chemistry; new active-learning classrooms, conference rooms, offices and collaborative study spaces. A second-story connector will join the new Science Building with existing Building C, and a new mechanical tunnel will tie into existing utilities. There will be a central stairway in the connector that will allow exterior access to the main corridors of the Auburn Hills campus.
The construction project broke ground in fall 2019 and is on schedule for completion in time for the start of Fall 2021 semester.
"Thanks in part to favorable weather and the limited number of people on campus, we were able to accelerate our completion date by 10 months," said Bobbie Remias, Vice Chancellor for Administrative Services.
For more information on the project, visit https://oaklandcc.edu/science-technology-building/default.aspx.
About OCC
Offering nearly 100 degrees and certificates, OCC is Michigan's largest multi-campus community college and No. 1 transfer institution in the state. The College provides academic, career training and enriching experiences, designed to empower students to reach their potential and enhance our community. More than 1 million students have enrolled in the College since it opened in 1965. A seven-person Board of Trustees governs OCC. Board members are elected on a non-partisan, at-large basis, serve as volunteers and are not paid. Mission statement: OCC is committed to empowering our students to succeed and advancing our community. Learn more at oaklandcc.edu.
Media Contact: OCC Marketing & Communications | 248.341.2020 | contactus@oaklandcc.edu