As a police officer, paramedic and firefighter, retired Berkley public safety officer Mike Garnett wore many hats during his 28 years of service keeping his community safe. Throughout those years, a fire bell that was first installed in a Berkley fire truck in 1952 served as a reminder of all the fires frontline workers were called upon to put out or, sadly, honor officers who died.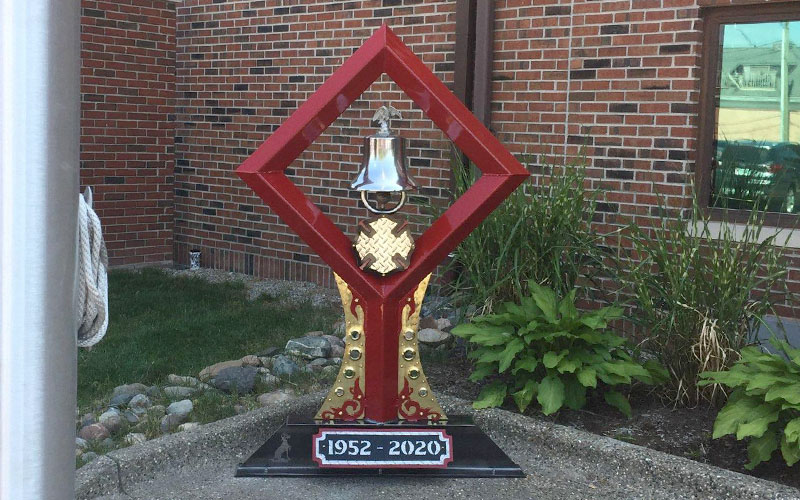 The fire bell was in three fire Berkley fire trucks over a 68-year period. It was retired in 2020 when it could not fit in the new truck the city purchased.
"I would estimate that fire bell was part of the response for approximately 5,000 fires in the city," said Garnett, who now is a part-time staff member at the Combined Regional Emergency Services Training (CREST) center, at Oakland Community College's Auburn Hills Campus.
A new hat to wear
When it was evident the fire bell needed to retire, Garnett added another hat to his career: a fire bell display designer.
Garnett wanted to honor the fire bell for its many years of honorable service. He believed its ring was almost magical in what it represented in response to a fire, as a way to communicate with on-duty firefighters it was time to clean up, or its distinctive sound honoring a first responder. Garnett sought permission from Berkley's public safety director to come up with a permanent display for the retired fire bell.
He sought help from an OCC colleague, Cameron Berrier, faculty in Welding Fabrication, to see if he had an extra angle iron to make a bell stand. Berrier asked Garnett what the stand was for and ideas started flowing for the project.
Teamwork: OCC volunteers honor those who served
When Berrier spoke with Garnett, he wanted to offer not just potential scrap metal but volunteered to design and build the display with Garnett's input.
"In our shop, we value teamwork, craftsmanship, pride-in-your-work, ethics and camaraderie. What that bell stood for is at the core of our values, and we felt we could represent that in an appropriate manner," said Berrier.
He reached out to OCC Welding paraprofessionals Shelby Stoll and Charlie Ousnamer who were instrumental in designing and fabricating the display. Ousnamer's father is a retired police officer and has a cousin who is a firefighter.
"Having my name as a small part of something that honors those men and women who rang that bell brings me great pride," Ousnamer said.
Garnett is grateful for the beautiful work, time and effort from all the OCC volunteers that stepped up to create this labor of love.
"Shelby and Charlie are truly talented in their craft. The project also came to life thanks to Mike Hojna, OCC auto body vehicle specialist. He painted it and made it look as shiny as a new car," Garnett said.
The OCC team volunteered countless hours for eight months to make Garnett's vision a reality. He said words cannot describe what it means for these volunteers to pour their heart and soul into this project.
Berrier echoes the sentiment.
"We've never been involved with a project that had such "meaning" behind it," Berrier added " I'd like to recognize and thank Mike for allowing and trusting us to bring his thoughts to life."
The fire bell and display can be viewed in its new home at the front of the Berkley Department of Public Safety building.
###
About OCC
Offering nearly 100 degrees and certificates, OCC is Michigan's largest multi-campus community college and No. 1 transfer institution in the state. The College provides academic, career training and enriching experiences, designed to empower students to reach their potential and enhance our community. More than 1 million students have enrolled in the College since it opened in 1965. A seven-person Board of Trustees governs OCC. Board members are elected on a non-partisan, at-large basis, serve as volunteers and are not paid. Mission statement: OCC is committed to empowering our students to succeed and advancing our community. Learn more at oaklandcc.edu.
Media Contact: Marketing & Communications | 248.341.2020 | contactus@oaklandcc.edu