Two new community members join seven-member team
Oakland Community College (OCC)'s Board of Trustees has approved two new community members – Kathy Abela, Royal Oak resident and executive director, finance and operations at Royal Oak Schools, and Steve Mackey, Rochester resident and Oakland University vice president for finance and administration as well as treasurer to the Oakland University Board of Trustees – to serve two-year terms on its seven-member 2023 audit committee.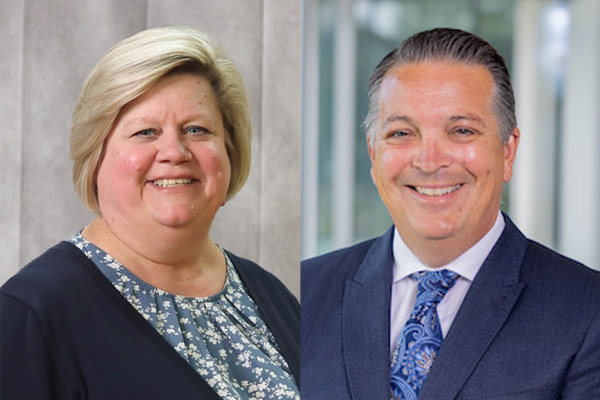 New OCC Audit Committee members Kathy Abela and Steve Mackey
The committee works to support the Board of Trustees fulfill their oversight responsibilities for financial reporting, internal control, audit and compliance with related regulations. This includes external review of the audited financial statements, as well as risk management and the internal control environment. 
The audit committee is comprised of three members of OCC's Board of Trustees and four community members. Abela and Mackey join community members Steve Doil of Rochester Hills and John McCulloch of Royal Oak and former Chair of the OCC Board of Trustees. Board of Trustees on the committee include Shirley Bryant of Farmington Hills, as audit committee chair; Kathleen Bertolini of Clarkston; and OCC Board of Trustees Chair Pamela Jackson of Commerce Township.
 OCC has been recognized annually for its financial excellence since 2015 through its Annual Comprehensive Financial Report (ACFR). The College is one of only two community colleges in Michigan to go beyond the minimum requirements of financial reporting and Generally Accepted Accounting Principles (GAAP) for public entities. In addition, OCC has been recognized for its financial reporting excellence since 2018 with an Award for Outstanding Achievement for its Popular Annual Financial Report (PAFR).
 About OCC
Oakland Community College offers nearly 100 degrees and certificates programs with the resources students need to be successful and advance our community. As a top transfer institution, OCC offers one of the state's most affordable tuition rates and flexibility in scheduling with face-to-face and online options. The College is nationally recognized for its high-demand career training with expert faculty in their fields. More than 1 million students have enrolled in the College since it opened in 1965. Learn more at  oaklandcc.edu.  
 ### 
Media Contact: Marketing & Communications | 248.341.2020 | contactus@oaklandcc.edu