A mentor, an inspiration, the kind of teacher that turns a spark of interest into a flame. These are a few examples that students and colleagues have described for Oakland Community College Welding/Fabrication Faculty Cameron Berrier.
His exceptional achievements have recently been recognized by the American Welding Society (AWS) as the recipient of the District 11 Annual Educator Award. The AWS Detroit Section is a non-profit welding organization serving the Detroit, southeastern Michigan, northeast Ohio, and Windsor, Ontario areas.
It is given as a means of recognizing high school, trade school, technical institute or community college instructors, whose teaching activities are considered to be exceptional in advancing the knowledge and skills of welding to students in their respective schools.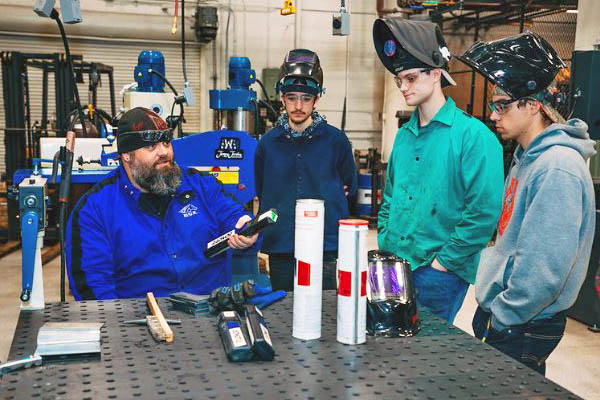 Welding/Fabrication Faculty Cameron Berrier works with students.
Beau Everitt, OCC dean, Engineering, Manufacturing and Industrial Technology, said Berrier has been a steady leader for Welding at OCC for eight years. He has challenged his students to do their best and think out of the box.
"Students truly enjoy what Cameron brings to the table with his knowledge and willingness to help everyone," said Everitt.
Shelby Stoll, Welding/Fabrication paraprofessional is a former student and current coworker of Berrier. She echoes Everitt's sentiment.
"In the seven years that I have had the pleasure of being taught by, and working with Cameron, I have not only gained invaluable knowledge and skills that will benefit me for life, but a mentor and brother as well," Stoll said. "Cameron has a unique way of taking students from all walks of life under his wing and boosting them up with a combination of passion, understanding, and genuine kindness."
Charlie Ousnamer, OCC Welding/Fabrication paraprofessional, explained that to the average person welding can be very intimidating. He sees many new students come into the lab that are visually nervous.
"The risk of catching on fire makes welding seem like it would be a crazy trade to get into! Cameron Berrier, however, makes it all seem easy. He takes away the fear and replaces it with confidence," Ousnamer said.
For Berrier, who many describe as humble, the award is an honor for years of dedication to his craft.
"While this award is a very cool honor, it's not why I teach," said Berrier. "I'm just blessed and privileged to work with a great team in the shop that allows me to do what I do and humbled by the fact that the students put their trust in me to help them on their journey."
To learn more about the profession visit Welding and Fabrication Technology.
About OCC  
Offering nearly 100 degrees and certificates, OCC is Michigan's largest multi-campus community college and one of the top transfer institutions in the state. The College provides academic, career training and enriching experiences, designed to empower students to reach their potential and enhance our community. More than 1 million students have enrolled in the College since it opened in 1965. A seven-person Board of Trustees governs OCC. Board members are elected on a non-partisan, at-large basis, serve as volunteers and are not paid. Mission statement: OCC is committed to empowering our students to succeed and advancing our community. Learn more at oaklandcc.edu.  
  
Media Contact: Marketing & Communications | 248.341.2020 | contactus@oaklandcc.edu