With the recent OCC 2022 Commencement ceremonies just concluded, many of the College's 1,600 graduates will turn their focus to beginning a career. To assist them in their job search, OCC's Career Services department has partnered with a nationwide employment database—Handshake – to provide both current students and graduates with special access to thousands of job opportunities and allow them to easily apply for these local and national jobs.
Founded by three Michigan Tech University students in 2013, Handshake was created to ensure that college students have equal access to meaningful careers and has become the leading early career community in the US.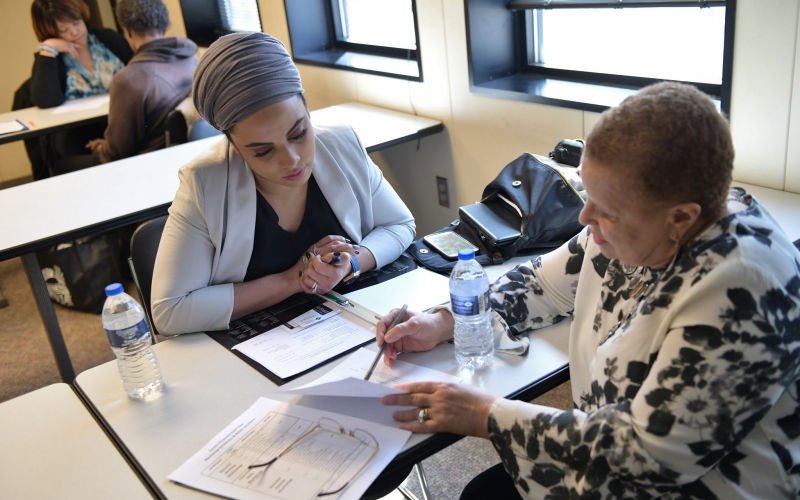 "Partnering with Handshake will give our students and alums the unique ability to easily search and apply for jobs available at some of the top companies and organizations in the country, along with a number of local employer partners," said Donna DuHame-Schmidt, director of career services and cooperative education.
To access the Handshake database, OCC students use the special link--https://joinhandshake.com/. Students and alums should then download the Handshake app and sign up for an account. Once they create a profile to get personalized job recommendations, they will be able to meet with employers to learn more about the partner companies and job openings and then apply for a position with just two clicks.
To help students and graduates prepare for a job search, Career Services also offers career counseling, assistance with resume writing, employment workshops and access to local job fairs and networking opportunities. For more information, visit https://www.oaklandcc.edu/career/.
###
About OCC
Offering nearly 100 degrees and certificates, OCC is Michigan's largest multi-campus community college and one of the top transfer institutions in the state. The College provides academic, career training and enriching experiences, designed to empower students to reach their potential and enhance our community. More than 1 million students have enrolled in the College since it opened in 1965. A seven-person Board of Trustees governs OCC. Board members are elected on a non-partisan, at-large basis, serve as volunteers and are not paid. Mission statement: OCC is committed to empowering our students to succeed and advancing our community. Learn more at oaklandcc.edu.

Media Contact: Marketing & Communications | 248.341.2020 |contactus@oaklandcc.edu