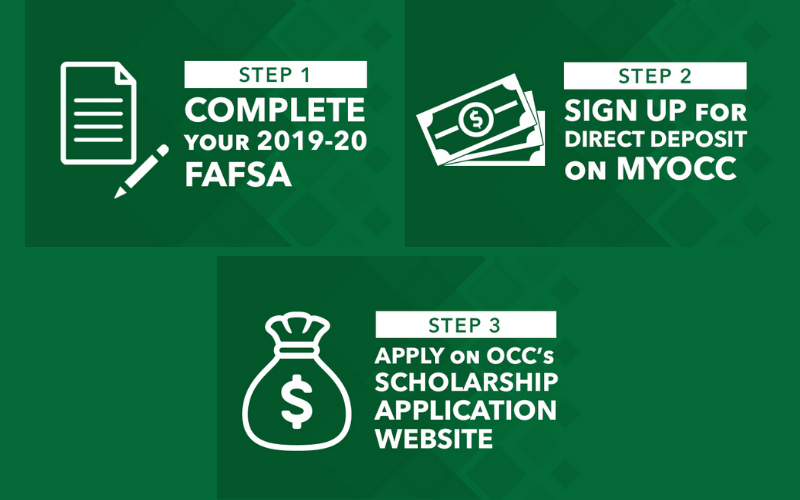 Steps to apply for CARES Act relief funds
The Coronavirus Aid, Relief and Economic Security (CARES) Act, passed by Congress and signed into law in March 2020, provides $3,737,183 in direct student funds for OCC to distribute in the form of emergency grants. This money covers student expenses related to the disruption of campus operations due to the Coronavirus; including eligible expenses under a student's cost of attendance such as food, housing, course materials, technology, health care and child care.
On Thursday, May 21, 2020, OCC launched its plan to quickly and equitably distribute the CARES Act Higher Education Emergency Relief Fund (HEERF) grants, following the approval of a Certification and Agreement form earlier filed with the U.S. Department of Education (DOE) for funding.
In addition, an internal CARES task force was established with College representatives from Student Services, Enrollment Services, Financial Services, and Student Financial Resources and Scholarships to create an OCC CARES emergency grant application process to document the awarding and comply with DOE regulations.
The College has a student resource page on its website with information about the CARES Emergency Grant Award. OCC students who believe they are eligible for Title IV federal financial aid can request emergency grant funding to help with their expenses related to the disruption of campus operations due to Coronavirus. To apply for an emergency grant, students must be eligible for federal aid as determined through filing the 2019-2020 Free Application for Federal Student Aid (FAFSA). OCC Winter 2020 term students who have not yet filed the 2019-2020 FAFSA are encouraged to do so as soon as possible at studentaid.gov.
"In these unprecedented times, we understand our students have many challenges. We want to be able to help them with their expenses related to the disruption of campus operations due to the Coronavirus through the CARES act funding" said Roberta Remias, vice chancellor for administrative services. "Our goal is to get this money into the hands of our students as quickly as possible in order to assist with continuation of their education."
Funding will be disbursed to eligible students enrolled in the Winter 2020 term on a first-come, first- served basis by completing the following steps:
· Complete the 2019-20 FAFSA, if not already done; the Federal deadline is June 30, 2020.
· Sign up for E-check/ACH of refunds on MyOCC - Student Menu - Financial Profile
· Complete a general application and application for the CARES Emergency Award on OCC's Student Online Scholarship page
· Check OCC student e-mail for detailed information regarding the CARES Emergency Grant Award
· Check out OCC's CARES Emergency Grant Award resource page for more information and FAQs
For more information on the CARES Emergency Grant Award, contact at cares@oaklandcc.edu.
About OCC
Offering nearly 100 degrees and certificates, OCC is Michigan's largest multi-campus community college and No. 1 transfer institution in the state. The College provides academic, career training and enriching experiences, designed to empower students to reach their potential and enhance our community. More than 1 million students have enrolled in the College since it opened in 1965. A seven-person Board of Trustees governs OCC. Board members are elected on a non-partisan, at-large basis, serve as volunteers and are not paid. Mission statement: OCC is committed to empowering our students to succeed and advancing our community. Learn more at oaklandcc.edu.
###
Media Contact: OCC Marketing & Communications | 248.341.2020 | contactus@oaklandcc.edu