After 45 years of taking classes on and off at OCC while working and raising her daughter, Carol Ridings decided she wanted to get her associates degree. The 68-year-old woman asked herself, how hard could it be? After all, her grandmother got her GED when she was 80 years old.
Turns out it actually was quite easy. She only needed one more credit to graduate with an Associate Degree in General Studies. Yep, one credit! Ridings was surprised, to say the least, when she called OCC and learned the news.
"I said, 'Are you kidding me?'" she recalled.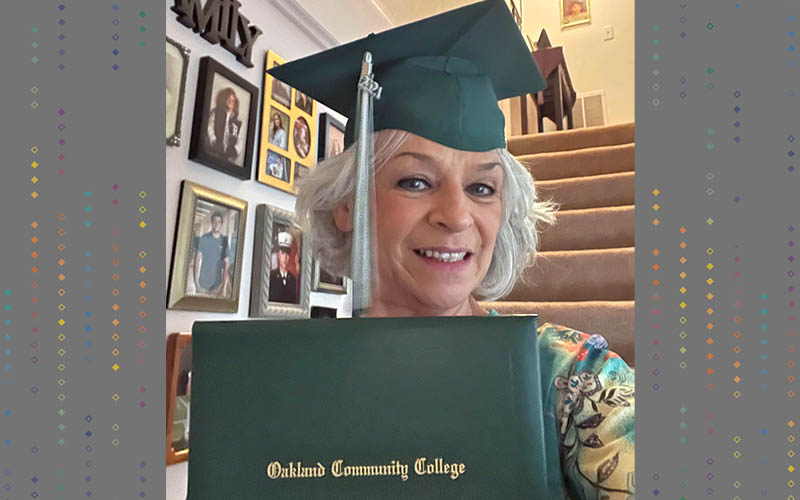 Ridings, though, didn't take the easy way out. She took a one-credit, self-defense class during COVID which required her to videotape herself performing different moves inside her kitchen and then upload the videos to her instructor. Luckily, she had plenty of experience with technology as a former systems analyst at a bank.
"I am so thankful I have all this computer knowledge in my retirement," said Ridings, who retired from the bank in September 2020 after 30 years of service. "I think it would have been overwhelming for me if I hadn't had experience on the computer."
Ridings took her first class at OCC's Auburn Hills campus in 1976. After a few years and a few semesters under her belt, she began working part-time at a gas company. She reminisces back to the early 1980s and using an electric typewriter to complete carbon copy order forms. If she made a mistake, there wasn't a delete button on the typewriter to fix it. She had to correct it the old fashion way with white-out correction fluid and, if that didn't work, she threw out the form and started all over again.
Until she noticed OCC offered a word processing class and decided to give it a try.
"I learned in class we could type and fix mistakes on the screen and save files. I remember being amazed that I could save it and go back in and change it. I also could copy stuff and delete it and move it around. I loved it...and, I never wanted to use white out again," she said with a smile.
That class sparked Ridings' interest in computers and paved the way for her to get a new job with an insurance company where she expanded her computer skills. From there, she continued working with computers at other companies and eventually landed at the bank, which paid for her to take classes at OCC toward her degree.
Getting that degree is a big deal for Ridings: she is proudly the first in her family to graduate from college.
"It felt like such an accomplishment," she said.
Taking a lead from her grandmother before her, she shares, "I like learning. I might even take more classes but not for a degree. You're never too old to learn."
About OCC
Offering nearly 100 degrees and certificates, OCC is Michigan's largest multi-campus community college and No. 1 transfer institution in the state. The College provides academic, career training and enriching experiences, designed to empower students to reach their potential and enhance our community. More than 1 million students have enrolled in the College since it opened in 1965. A seven-person Board of Trustees governs OCC. Board members are elected on a non-partisan, at-large basis, serve as volunteers and are not paid. Mission statement: OCC is committed to empowering our students to succeed and advancing our community. Learn more at oaklandcc.edu.
Media Contact: Marketing & Communications | 248.341.2020 | contactus@oaklandcc.edu