By Peter J. Provenzano, Jr.
Chancellor, Oakland Community College
"Home for the holidays" for college students and their families promises to look different this year; after all it is 2020. While at home, conversations will likely cover a wide-range of topics and perhaps one of the most important is a discussion of the student's plans for next semester.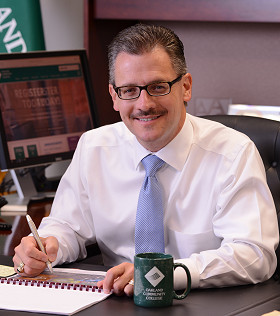 While words like "synchronous and asynchronous" classes have become part of the student lexicon, attempts at offering a traditional college experience, including on-campus learning, student housing and student activities, remains a tremendous challenge. Faculty and administrators throughout Michigan and across the country are making every effort to provide this experience while students are taking great strides to learn and adapt in this remote learning format. The goal for all is to ensure students stay on track with their education.
This environment is challenging and, for many college students, the idea of taking a semester off in the hopes that college will "return to normal" in the near future may sound appealing, but shouldn't. Every semester, students come to us with situations that cause tremendous disruption to their academic pursuits including financial, health or family difficulties. These challenges make it difficult to continue their education without taking a break. We listen and we respect their choices but we tell them that taking a break isn't always the right answer and there are options available to support them.
The reality is, taking a break can make it more difficult to finish a degree. Research shows that there is a direct parallel to the number of credits a student completes to both student retention and graduation rates. For example, both full and part-time students who have completed 30 or more credits are about 15% more likely to be successful in continuing on with their program of study, earn their degree or certificate, and achieve their goals.
Taking a break from college can also mean students don't return to college at all, which can have a direct and adverse impact in future earnings and job satisfaction. According to statistics from the U.S. Bureau of Labor Statistics from 2019, the average weekly salary for those who earn a bachelor's degree was $1,281 ($66,612 annually) and $874 weekly ($45,448 annually) for those with an associate degree. Compare that with the $749 weekly ($38,948 annually) average for those with only a high school diploma and you can see that earning a college degree is a good investment that should not be put at risk.
In addition to the earning differential, those with a degree also are likely to have better career options resulting in more job security and satisfaction. We know the job market will continue to demand advanced degrees, certificates and training, and job candidates will need these credentials to get ahead.
Community colleges know how much is at stake. As mission-driven organizations, student success is our top priority. At Oakland Community College all of our student services are available virtually to ensure our students can stay safe while staying on track with their education. We also understand there are barriers to online learning and that's why we used $1 million of the federal funds we received via the CARES Act to help supply free Dell laptops to 2,100 full-time students for fall semester and have an additional 1,400 laptops available for this next semester.
Without a doubt, learning online from home at a kitchen table or bedroom takes a lot of discipline. But statistics and experience show it is well worth the effort. We hope students can look at this moment in time as a challenge they can overcome and reach out for help when they need it. They have options and we are here to provide them. Like our students, we are learning and adapting and implementing innovative new technologies. And, we are doing everything we can to ensure we have our students' backs to help them be successful now and for their future.
About OCC
Offering nearly 100 degrees and certificates, OCC is Michigan's largest multi-campus community college and No. 1 transfer institution in the state. The College provides academic, career training and enriching experiences, designed to empower students to reach their potential and enhance our community. More than 1 million students have enrolled in the College since it opened in 1965. A seven-person Board of Trustees governs OCC. Board members are elected on a non-partisan, at-large basis, serve as volunteers and are not paid. Mission statement: OCC is committed to empowering our students to succeed and advancing our community. Learn more at oaklandcc.edu.
###
Media Contact: OCC Marketing & Communications | 248.341.2020 | contactus@oaklandcc.edu