As the owner of her own consulting practice, Chantal Davis developed her company motto "Where We Serve is Where We Succeed," based on her own extraordinary experiences. She highlights a pivotal time in her life as a community college student at OCC and the caring support of a college counselor.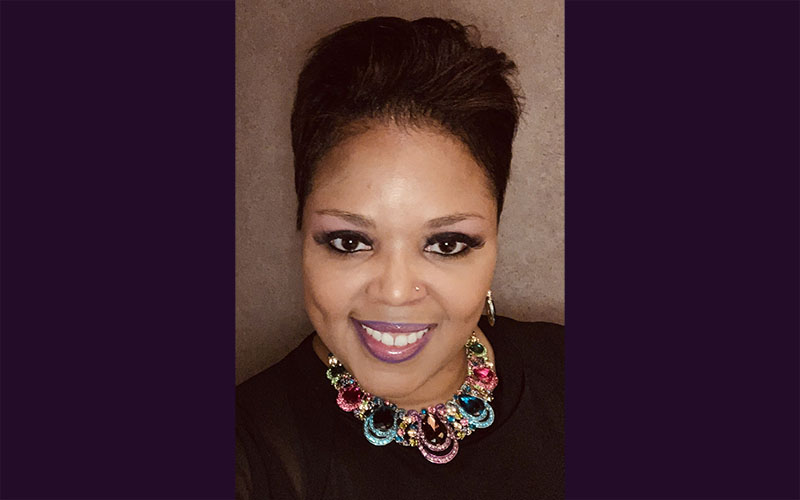 OCC alumna Chantal Davis
A graduate of Southfield Lathrup High School, Davis was the second of three children born in her family. She also has five adopted siblings who became part of her family through foster care. Early on, she had her sights set on becoming a doctor, but her dream was derailed when her mother became ill and she became a primary caregiver for her younger siblings.
Davis was still committed to her dreams and enrolled at OCC. There she met Rhonda Brown, an OCC counselor who took her under her wings.
"I met with Rhonda and told her my story. She set me on my path to success including offering me the opportunity for a work-study program in OCC's Career Center at a time when I needed help the most," Davis said.
Davis persevered and graduated with a Liberal Arts degree in 2000 from OCC. With guidance from her long-time pastor Bishop Keith A. Butler, she went on to Bible school and became a licensed minister in 2002. In 2004, Davis received her Bachelor's in Business Administration from William Tyndale College, followed by a Master's degree in Organizational Leadership in 2009 from Regent University in Virginia.
Unexpected detour in the road to success.
Davis spent several years as an infant care specialist. She used her organizational leadership skills in the entertainment and nonprofit field and worked with actor Hosea Chanchez, who starred as Malik Wright on the BET comedy, The Game. Chanchez tapped Davis to become a board member for his nonprofit organization, Watch Me Win. The group is dedicated to enriching the lives of urban youth through mentorship, leadership development, encouragement and empowerment.
Her life took a dramatic turn in 2018 after sustaining a traumatic brain injury in a near-fatal car accident, which lead to post-traumatic stress disorder, anxiety, pain and extensive injuries. The road to recovery was long and comprehensive.
"You have a whole new perspective on life when you are told by medical experts that your job is to sit in the dark for 30 days so your brain is not overstimulated," she said.
Her painful recovery was slow but steady. Then another hurdle: while doing occupational and physical therapy at home, Davis fell backward and hit her head resulting in another head injury.
She found hope and humanity in her local community.
Davis' focus needed to be on rehabilitation and survival. This forced her to pause her career, causing a major financial challenge.
"My community came through. Various religious institutions and others helped me with food, rent and survival," a tearful Davis recalled. "In my darkest times, I once again found guidance and support through my local community."
Davis received at $10,000 grant from the Georgia Brain and Spinal Injury Trust Fund, which supports those affected by traumatic brain injuries and spinal injuries. This grant was instrumental in expediting her brain recovery and repair.
"With the grant, I was able to get support from the Amen Clinic, where I was put on a comprehensive treatment and rehabilitation regimen to help with my cognitive impairment," she said.
Davis did not give up hope – nor did she give up on her dream.
Although her initial aspiration was to become a medical doctor, she remained focused on recuperating and using her personal experience and organizational talent to also pursue a doctorate degree in Strategic Leadership from Regent University during this time.
Looking back, the now 41-year-old Michigan native who currently lives in Marietta, Georgia, credits OCC and Brown for setting the stage for her career path and success.
"There were major challenges and a lot of treatment during this time. When the medical experts showed me images of my brain, they could not believe I was in a doctoral program and how well I was functioning and communicating, given the extensive brain injuries I encountered," she said.
"The skills I learned at OCC and at the Career Center guided me to persevere throughout the most serious challenges in my life."
A special place in her heart for her educational journey.
As she received word she would become "Dr. Davis," one of her counselors advised her to reach out to meaningful people who shaped her life and career.
She immediately contacted OCC counselor Rhonda Brown to tell her the great news that she was officially Dr. Davis. In her words, she expressed the following to Brown:
"I could not have made it here without you - you were one of the catalysts in my life over 20 years ago at a time where I needed help the most and I will forever honor and appreciate you. Thank you for taking me under your wing and giving me a job in the Career Center. Thank you for supporting me in the beginning stages of my college career and know that your support of my academic career has so much to do with my success today. You were a pioneer to my road to success. For that I will always honor and appreciate you."
Brown said that she is honored to know Davis and proud to see all that she has accomplished.
"Chantal is a reminder and a perfect example that we don't always know in the moment — or even in the short term — what kind of impact we've had on our students," Brown said. "All of us in the education field should be proud of ourselves and the profession we've chosen."
While Davis' experiences and brain injuries may have delayed her timeline, her goal of earning a doctoral degree and helping others in her community became a reality. She developed a consulting and coaching practice, Mallory Davis Inc., named after her mother's maiden name and her last name. The practice teaches, trains, develops and grows organizations, communities and individuals, thereby bringing balance and success to such entities.
Although Davis lives in Georgia, she plans to return to her roots to give back to her community in Michigan.
###
About OCC
Offering nearly 100 degrees and certificates, OCC is Michigan's largest multi-campus community college and No. 1 transfer institution in the state. The College provides academic, career training and enriching experiences, designed to empower students to reach their potential and enhance our community. More than 1 million students have enrolled in the College since it opened in 1965. A seven-person Board of Trustees governs OCC. Board members are elected on a non-partisan, at-large basis, serve as volunteers and are not paid. Mission statement: OCC is committed to empowering our students to succeed and advancing our community. Learn more at oaklandcc.edu.
Media Contact: Marketing & Communications | 248.341.2020 | contactus@oaklandcc.edu