Why are chemists so great at solving problems? Because they have all the "solutions."
Teaching Chemistry labs online during the pandemic was the problem at hand and it required research, teamwork and flexibility to bring the subject to life. OCC Chemistry faculty member Katelyn Cottone was determined to find a solution through ingenuity, trial and error, and persistence.
According to Cottone, science-based courses are especially challenging in a remote environment since the lab component requires hands-on experience. However, she was determined to ensure her students' success and tested her theory that teaching and learning chemistry could be done effectively, even when done remotely.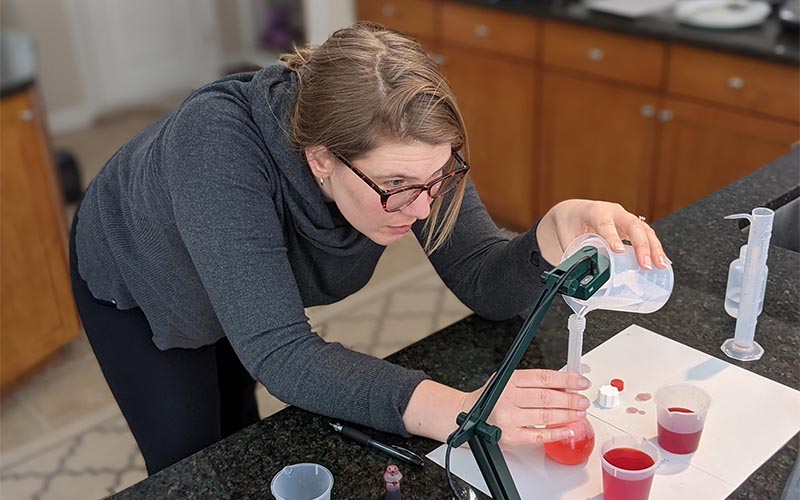 OCC faculty member Katelyn Cottone develops lab kits for use by her Chemistry students learning remotely.
Along with her fellow faculty members, Cottone began researching several options to provide students a real lab experience. This included investigating kits that could be purchased by students to do traditional lab experiments at home.
"That option was costly, averaging about $200 per student," Cottone said. "So, we began working with colleagues at OCC to figure out how to create more cost-effective lab kits."
In addition to the cost, lab kit safety was a top priority, so the team consulted with Michael Schmidt, OCC's environmental health and safety coordinator. Together, they determined no glass could be sent to student's homes and any chemicals used had to be safe household chemicals such as baking soda, vinegar, salt and sugar.
Cottone said one example of an at-home lab experiment is when students carried out a thin-layer chromatography (TLC), with varying solvents (water or nail polish remover) to see how solvent affects the results.
With the help of the bookstore, students in introductory and general chemistry classes, and an organic chemistry lab all received the appropriate lab kits at home. To help with the student out-of-pocket cost, the Chemistry Department agreed to cover the majority of the cost so students only needed to pay $4 for each kit.
The "reaction"
"Initially, the inability to ask a 'quick question' about the lab directions was frustrating for some," Cottone said. "Student feedback was mixed while continual improvements were made to mimic an in-person lab."
Student Haya Kandil, who will graduate this fall with an associate in Science degree, participated in chemistry classes before and during the pandemic. She echoes the challenges mentioned by Cottone, saying transitioning to online labs at home was initially difficult.
"Not being able to ask a simple question and get an immediate answer like I could during on campus lab made it more challenging, but I appreciated how Professor Cottone worked hard to make sure her lab kits were available to all her students," Kandil said.
"The experience truly taught me how to use all the resources available to me and seek out more."
Cottone has updated the experiment directions with more detail and provided pre-lab lecture videos about the pitfalls and the confusing parts of the directions to help make the experiments easier to conduct without being able to get immediate assistance from faculty.
To show their work, students follow a series of directions and upload pictures of certain parts of the lab experiment. They also send in written lab reports.
Lessons learned
Like any lab experiment, Cottone said there were bumps in the road and progress occasionally stalled. But thanks to the teamwork and persistence of OCC faculty and staff, science-based classes involving labs moved forward this past year. And students are replicating the online learning experiment with positive results.
"If you would have asked me before the pandemic if we could conduct lab experiments effectively at home, I would have said no way," Cottone said.
"These experiments are a reminder that chemistry is all around us, not just in a lab. We feel a great sense of accomplishment that students are utilizing the kits for their labs during the winter 2021 semester and plan to use kits again in the summer semester."
About OCC
Offering nearly 100 degrees and certificates, OCC is Michigan's largest multi-campus community college and No. 1 transfer institution in the state. The College provides academic, career training and enriching experiences, designed to empower students to reach their potential and enhance our community. More than 1 million students have enrolled in the College since it opened in 1965. A seven-person Board of Trustees governs OCC. Board members are elected on a non-partisan, at-large basis, serve as volunteers and are not paid. Mission statement: OCC is committed to empowering our students to succeed and advancing our community. Learn more at oaklandcc.edu.
###
Media Contact: Marketing & Communications | 248.341.2020 | contactus@oaklandcc.edu