Rick Leonard brings 35 years of experience, distinguished service honors to top post
Oakland Community College has named Rick Leonard chief of its Department of Public Safety. As chief, Leonard will oversee the College's team of highly-trained, state-certified sworn Police Officers across its five campuses in Oakland County. Leonard replaces Paul Matynka, who retired from the College on November 3, 2023 after six years at OCC and 35 years in law enforcement.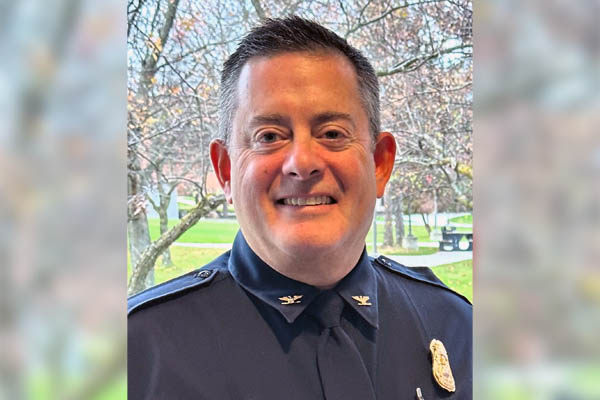 Chief Rick Leonard
Chief Leonard has extensive experience in public and private security and operational leadership. He joined OCC in 2021 and quickly rose up the ranks from officer to lieutenant one year later. He joined the College from the City of Auburn Hills Police Department where he served nearly 25 years with progressive leadership responsibilities, departing as Police Lieutenant.
"Rick has been instrumental in expanding Oakland Community College's public safety training efforts, particularly the 'Avoid. Deny. Defend.' training for College employees and student groups," said Robert ("Bob") Kelly, executive director of Facilities Operations who oversees Public Safety, Facilities and Operations. "We are extremely confident Rick will continue to enhance Public Safety's reputation for effectiveness, professionalism and service."
An active member of the Michigan Association of Chiefs of Police, Leonard has earned several certificates of merit and commendations throughout his career from the City of Auburn Hills as well as an Award for Excellent Service in the Public Service from the Federal Bureau of Investigation and Distinguished Service Award from the Oakland University Police.
"We are certain Rick will continue to be a valuable asset to the College and look forward to the future with him as the head of the department," noted vice chancellor for Administrative Services Christina ("Tina") Kostiuk.
Leonard is a proud graduate of OCC's Oakland Police Academy. He completed Michigan State University's School of Police Staff and Command training and earned a bachelor of arts in sociology from Oakland University. He is a long-time Oakland County resident.
Leonard said he is excited for the opportunity to serve as OCC's next public safety chief.
"OCC has a professional, dedicated public safety team who are committed to making sure our students, employees and visitors have a safe environment to succeed in. I have been overwhelmed by the support and trust our community has in our department and will do everything I can to keep and grow that trust."
About Public Safety at OCC
The Oakland Community College Department of Public Safety provides a full range of law enforcement services to the students, faculty, staff, and visitors to the College properties. The Department is committed to protecting life property and maintaining order while assuring fair and equal treatment to everyone while respecting the cultural and ethnic diversity of the College community. All of the department's uniformed officers are fully sworn, have full arrest powers and meet the standards as defined by the Michigan Commission on Law Enforcement Standards (MCOLES). For further information visit OCC Public Safety.
About OCC  
Oakland Community College offers nearly 100 degrees and certificates programs with the resources students need to be successful and advance our community. As a top transfer institution, OCC offers one of the state's most affordable tuition rates and flexibility in scheduling with face-to-face and online options. The College is nationally recognized for its high-demand career training with expert faculty in their fields. More than 1 million students have enrolled in the College since it opened in 1965. Learn more at oaklandcc.edu.
###
Media Contact: Marketing & Communications | 248.341.2020 | contactus@oaklandcc.edu