Indulging in Skinny Pop, Cheetos or Tostitos? OCC student Eradajere Oleita has a simple wish: Eat until your heart's content but don't trash those chip bags. Instead help repurpose them into blankets for Detroit-area homeless.
Oleita, 25, started collecting chip bags several months ago after seeing an online video of a woman in England who designed sleeping bags from empty snack pouches.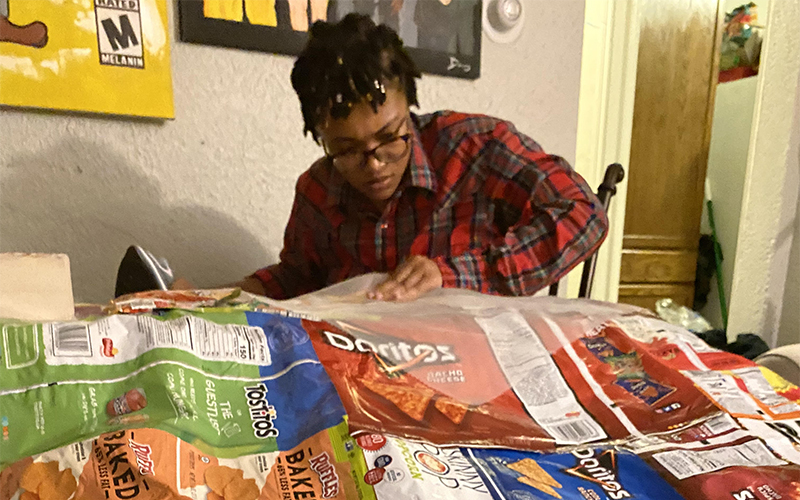 She explains the bags have all the right ingredients to create a warm and colorful blanket that mimic emergency blankets for those seeking shelter. The foil lining is insulated, durable, waterproof and lightweight. It takes about 150 chip bags or fruit snack wrappers to make a single blanket. The bags are ironed together and lined with foam and padding from old coats to provide a cushioned, insulated sleeping bag.
Oleita leads a team of people including volunteers who have produced 20 blankets to date. Many more are on the horizon.
"We have a pool of more than 50 volunteers that should be starting with us soon and are able to get kits and make them at home," Oleita said. "We have also collected more than 3,000 pounds of donated foil from individual homes and factories around the United States."
Born in Nigeria, Oleita, moved to Michigan as a high school sophomore. Currently, she is pursuing an associate degree in Global Studies at OCC and plans on graduating in the fall.
She credits working as an AmeriCorps national service member with the Youth Energy Squad, an EcoWorks affiliated program, which equipped her with large scale skills on sustainability and service. Her passion for service also extended to Detroit Public Schools, serving as a green school coordinator with YES to help shape the next generation of green leaders.
Oleita's chip bag project is just the start of her desire to pursue environmental activism.
"My goal is to create an economically equitable and sustainable company in Detroit, providing urban cities with green job opportunities. I also plan to spread the word on environmental racism through art and artistic mediums."
OCC Chancellor Peter Provenzano, Jr. says Oleita's compassion for those in need and her entrepreneurial skills will continue to make a tremendous impact and difference in the community.
"Our students inspire us each day with their determination and potential to pursue their dreams and serve a greater purpose," Provenzano said. "Eradajere is a brilliant example of the impact each of us can achieve with a giving heart, determination and skills to make this world a better place."
Oleita, who has gained national media attention for her humanitarian efforts, welcomes chip bags, fruit snack wrappers and monetary donations all year long.
To learn more, visit the Chip Bag Project.
About OCC
Offering nearly 100 degrees and certificates, OCC is Michigan's largest multi-campus community college and No. 1 transfer institution in the state. The College provides academic, career training and enriching experiences, designed to empower students to reach their potential and enhance our community. More than 1 million students have enrolled in the College since it opened in 1965. A seven-person Board of Trustees governs OCC. Board members are elected on a non-partisan, at-large basis, serve as volunteers and are not paid. Mission statement: OCC is committed to empowering our students to succeed and advancing our community. Learn more at oaklandcc.edu.
###
Media Contact: Marketing & Communications | 248.341.2020 | contactus@oaklandcc.edu