OCC Culinary Class Gives Students Practical Experience in Managing High-End Events
If you have ever planned a holiday party, you know the amount of work it takes to ensure it comes off without a hitch. Now take that party and add theme decorations; creative menu planning including themed and five-star options; specialty cocktails; and staffing servers to entertain and feed100 people and you now have the basis of a unique class taught at OCC's Culinary Studies Institute (CSI).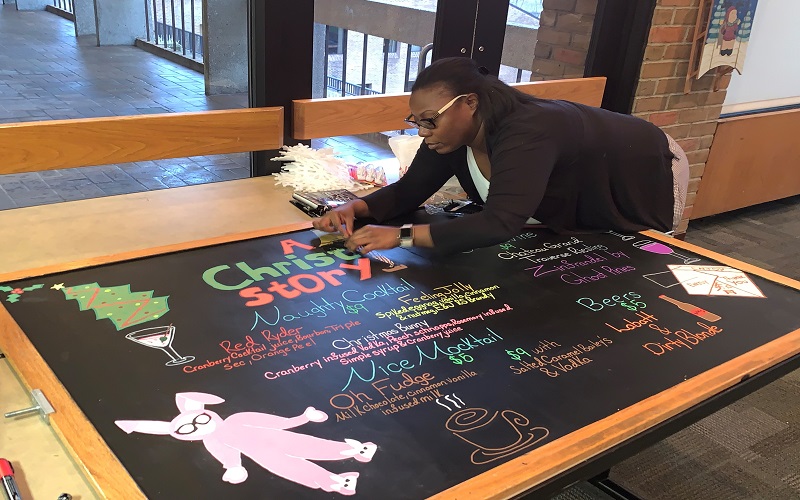 Students in OCC's CUL 2480, Event and Catering Management class learn about all aspects of planning and managing a large catered event with in-class, hands on learning. That learning was on full display in preparation for the popular "A Christmas Story" dinner event at the Orchard Ridge campus on Dec. 5.
Meatloaf, smeatloaf, double-beatloaf. I hate meatloaf!
So how do they make it a success for all guests? According to CSI Program Coordinator Chef Julie Selonke, CEC, the Culinary Studies Institute at OCC enjoys a well-deserved reputation for preparing students for a career in hospitality. "Our events provide students with a real-world application of gained knowledge throughout their time with us," she said.
As part of the "team" working on the holiday culinary dinner event, Selonke said students who manage various aspects of each event develop systems for training student workers and stressing the importance of meeting the goals of guest service and satisfaction.
"Working as a passionate team our student leader's objective is to transport our guests experience from ordinary to the extraordinary," Selonke added.
Kim Marks-Ball is a non-traditional student with a family who is studying at the CSI to launch a second career and finds the hands-on experience of planning such a large event invaluable.
"For our A Christmas Story event, I am working as the General Manager responsible for ensuring that everyone is on task, similar to managing a restaurant," Marks-Ball said. "Previously I worked on the floor for the Moulin Rouge dinner event, creating and building displays. The hands-on experience really gave me an inside view of event planning, which is something I am interested in for a future career."
OCC Student Mercedes Valencia is handling the marketing and financial aspects of the event, and previously was in charge of human resources for the Moulin Rouge dinner, hiring and managing the work schedules of all the student volunteers. She has also worked this past summer as a cook at a local country club, and the experience she is gaining at OCC will help her future career opportunities.
"This class teaches us to communicate effectively and work as a team, something that is very important when planning an event like this," said Valencia. "Gaining this experience will really help my culinary career in the future."
According to Selonke, those potential career options for OCC culinary graduates include event planning and catering companies, country clubs, banquet halls and conference centers.
A Christmas Story culinary dinner provides guests with a fun, whimsical evening of food, props and decorations reminiscent of the popular 1983 cult-classic movie set in the 1940s. The dinner event recreated many of the memorable props and scenes from the movie, including Higbees Department Store, the Leg Lamp and Bo' Ling Chop Suey Palace, to name a few.
"We have a very small budget for this dinner so we had to use a lot of old spare props from our storeroom to build new ones," Marks-Ball said. "We really learned how to take what we have on hand and turn it into something that fits the design theme of the dinner."
A total of 90 students worked at the A Christmas Story dinner. In addition to the decorations, students also learned about developing food menus, food prep, ordering linen, staffing and all the other details that need attention to ensure a successful event. The dinner's hors de oeuvres and festive five course meal were all prepared by students in the culinary program. Even developing the signature holiday cocktails were part of the learning experience for students.
"I am in charge of preparing the bar area for this event and I even got the chance to develop one of the signature cocktails that fits the A Christmas Story theme," said student Naomi Johnson, who plans to go into the hospitality industry after graduating. "Planning an event like this is very detailed work but it makes the guests feel like they are part of the movie set."
The result of this student collaboration under the watchful eyes of the chefs and staff of the Culinary Studies Institute was a rousing success.
"These events take a lot of hard work and determination from our students, but they always rise to the occasion," reflected Selonke. "It is also the best way to hone their entrepreneurial skills that enables our graduates to enjoy successful leadership positions in the culinary industry."
For more information about OCC's Culinary Studies Institute and future culinary events, visit https://oaklandcc.edu/culinary/default.aspx.
About OCC
With multi campus system in Oakland County, OCC is Michigan's number one transfer institution, offering nearly 100 excellent degrees and certificates. The College empowers academic and developmental experiences, allowing students to reach their full potential and enhance the communities they serve. More than a million students have enrolled in the College since it opened in 1965. Learn more at oaklandcc.edu.
###
Media Contact: Marketing & Communications | 248.341.2020 | contactus@oaklandcc.edu