Townsend is the only certified NC3 Master Instructor at a Michigan Community College
Training students about all things "under the hood" is where Claude Townsend excels. As the head of OCC's Automobile Servicing program, his students will attest to that fact, most receiving well-paying jobs after completing his courses.
And now he has taken his mastery of automotive teaching one-step further, earning certification as an NC3 Master Instructor – the only instructor ranked with this certification among all community college in Michigan.
Sanctioned by the National Coalition of Certification Centers (NC3), Townsend earned this prestigious certification after shadowing four Master NC3 Instructors and then teaching classes under the watchful eye of mentors at colleges across the country this past year including road trips to Wisconsin, Arizona and North Carolina.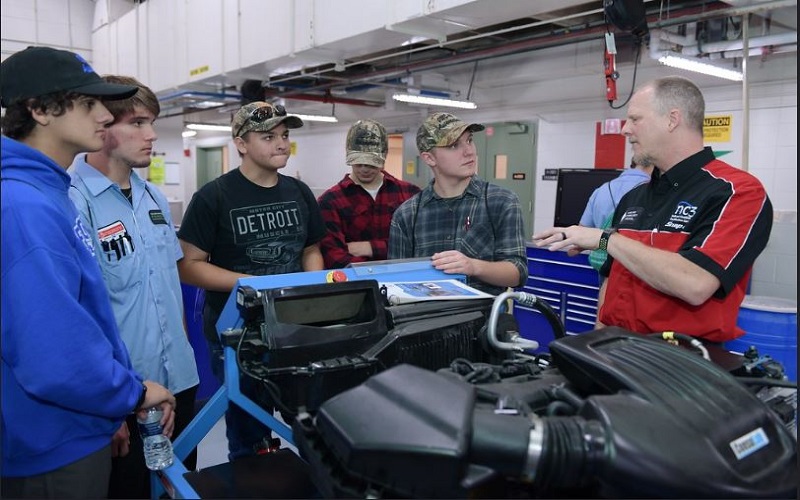 Claude Townsend talks with students in OCC's Automotive Servicing facility
Townsend believes shadowing and teaching classes at other schools really exposed him to different types of students and teaching techniques with important feedback to elevate his skills and expertise in teaching automotive service repair.
"In one of the classes I taught, I had a Deaf student who required a sign language interpreter to translate my lecture so I had to learn to speak much slower to be effective," he said. "That experience really helped me to understand a different way of teaching and adapting my lectures and instruction to make it easier for all my students to grasp important concepts."
Townsend said the experience also provided him with greater exposure to other college automotive training facilities giving him facility and design ideas to incorporate into OCC's newly renovated facilities as a model training area.
Improving the skills gap
"What makes this master certification really cool is OCC students can now earn up to 21 NC3 certifications and 5 certificates of attendance in the College's Automobile Servicing program," said Townsend. "Earning these certifications gives students an added advantage in the job market because auto dealerships and repair shops know these students are certified and they do not have to spend extra time and money training on various aspects of automotive repair."
"Another really important advantage of earning NC3 Master Instructor certification, is that whenever 10 or more students earn an NC3 certification on a particular automotive scanner, the manufacturer of these highly-technical diagnostic tools will provide OCC with free software updates, saving the College as much as $10,000 a year," he said.
"As an NC3 Master Instructor, we are at the forefront of helping to solve the skills gap by preparing the new skilled labor workforce, and that is something I am very proud of." he added.
Excellence at OCC
Townsend is not alone in his quest for master instruction certification. OCC instructors in Welding, Robotic, HVAC and Machine Tool programs are also earning master certifications. As a result, OCC is currently ranked 29th out of 800+ schools in the world for the number of NC3 certifications earned by students, the highest ranking of any college in Michigan.
Giving back to others is important to Townsend. In addition to teaching students, he now serves as a mentor to other instructors across the country trying to earn their certification and interested in this region – home of the automotive industry – for training.
"I learned so much during this process that I really want to give back to others who are dedicated enough to earn the NC3 status, and being a mentor in this program is a great way to do that."
About OCC
With multi campus system in Oakland County, OCC is Michigan's number one transfer institution, offering nearly 100 excellent degrees and certificates. The College empowers academic and developmental experiences, allowing students to reach their full potential and enhance the communities they serve. More than a million students have enrolled in the College since it opened in 1965. Learn more at oaklandcc.edu.
###
Media Contact: OCC Marketing & Communications | 248.341.2020 | contactus@oaklandcc.edu