"Being involved in OCC built my personality and made me the person who I am today. If had to choose again whether I want to attend OCC or go straight to a four-year institution, I would definitely choose OCC again and again." - Razan Alali
Just over a century ago, Michigan was in the grips of another virus, the 1918 flu pandemic. This affected every area of life, including higher education.

As with COVID-19 today, school administrators across the nation had to make hard choices about whether to stay open and how to best protect students. Some made the difficult decision to cancel graduation ceremonies.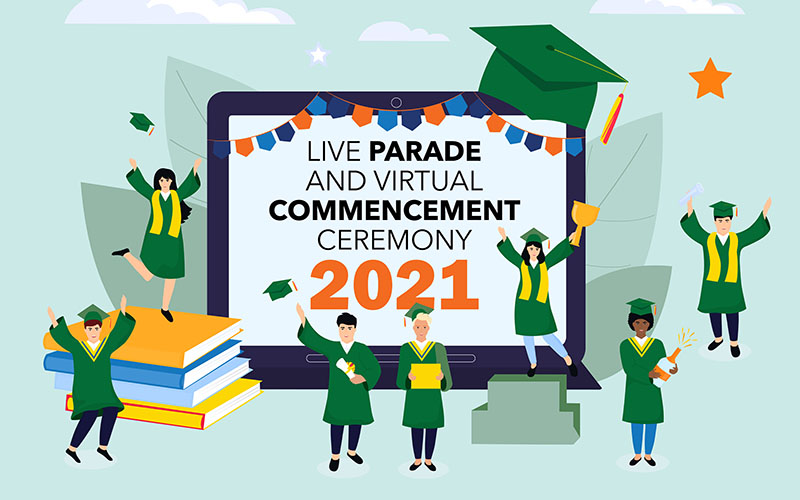 However, times have changed.

Thanks to the advent of technology, Oakland Community College is completing its first-ever, all-online year of learning – and celebrating its graduates' great achievement with an inaugural OCC Commencement Car Parade and its second-ever virtual commencement. The virtual commencement features pre-recorded ceremony addresses from students, administration and keynote speaker, Michigan's Lt. Governor Garlin Gilchrist II.
It has been a year characterized by grit and perseverance, where students had to adapt to unprecedented challenges. The isolation of learning and living remotely could be oppressive at times.
"Stuck in our little computer worlds, we got Zoom fatigue," said Irine-Valeria Neba, an international student who studied psychology and African-American studies. "It was also difficult to separate home life from school and work, with so many distractions."

And yet, it was in adapting to these circumstances that OCC students learned some valuable lessons.

"I became more confident in my skills and myself," said Elena Wong, who studied Political Science and Public Policy. "It also helped me to be more empathetic about what other people have been going through and be there for people who need help."

International student Razan Alali learned to never give up no matter how hard life gets.
"I left my family, friends, home country and traveled far away to study medicine and achieve my goals," she said. "I had so many bad times and especially felt alone without my family, but I used to always remind myself that I didn't come this far just to come this far. I have a dream, and I know that it is not impossible to achieve it."

Neba, Wong and Alali are three of OCC's students who will be sharing their experiences in a collaborative address during the pre-recorded virtual commencement.
About OCC's virtual commencement
Virtual commencement will start at 10 a.m. on Saturday, June 12, and consist of four pre-recorded ceremonies, available on OCC's website at https://oaklandcc.edu/commencement/default.aspx:

1. Arts and Communications
2. Business, Management, Marketing, Technology, and Engineering, Manufacturing & Industrial Technology
3. General Studies
4. Science, Health Sciences, and Human Services

Each ceremony's end time will depend on the number of graduates, and each student will be featured alphabetically on a graduate recognition slide. This will include any personal message (photo, quote, video) that the student chose to submit.

OCC Commencement Car Parade
After Virtual Commencement on the morning of June 12, graduates will keep the celebration going with OCC's 2021 Commencement Car Parade in the afternoon, starting at 1 p.m.

This will take place at the Orchard Ridge campus, and every graduate who attends will receive a free "Proud OCC Grad" yard sign.
###

About OCC
Offering nearly 100 degrees and certificates, OCC is Michigan's largest multi-campus community college and No. 1 transfer institution in the state. The College provides academic, career training and enriching experiences, designed to empower students to reach their potential and enhance our community. More than 1 million students have enrolled in the College since it opened in 1965. A seven-person Board of Trustees governs OCC. Board members are elected on a non-partisan, at-large basis, serve as volunteers and are not paid. Mission statement: OCC is committed to empowering our students to succeed and advancing our community. Learn more at oaklandcc.edu.

Media Contact: Marketing & Communications | 248.341.2020 | contactus@oaklandcc.edu