Graduates from Oakland Community College (OCC) rallied around the theme "Finding Our Voices" as they celebrated their dreams come true in front of a packed house of family and friends.
The celebration recognized overcoming obstacles, coming out stronger and achieving academic accomplishments at the College's 57th annual commencement held at Oakland University's O'rena in Rochester, Mich.
"As I stand here today, I am filled with pride at everything our graduates have accomplished, especially during a time of unprecedented challenge," said OCC Chancellor Peter Provenzano. "You had to get used to a new normal and marked a new way of doing things. You adapted, and you drove yourself to overcome struggles. Ultimately, you found your voice … which brings you to this moment."
More than 1600 OCC students graduated earning associate degrees and certificates.
The Commencement Ceremony featured two of the many OCC graduates – AA'Shahla Al-Ali of Farmington Hills and Scott Thousand of St. Clair Shores – as co-keynote speakers who reflected on how their experiences at OCC helped them "Find Their Voice."
Morning speaker Scott Thousand shone light on the 2023 class and the diversity of ideas found at OCC as key to learning and succeeding.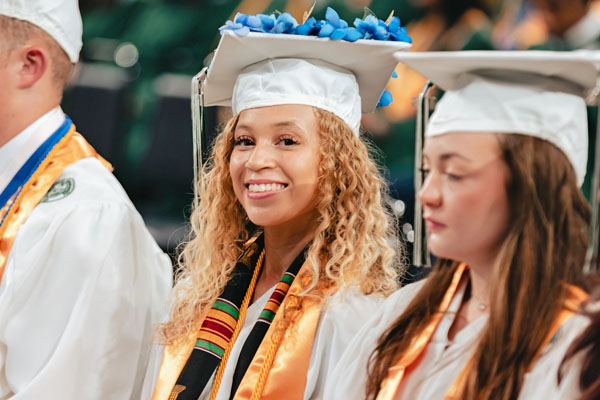 "So how do we find our voices? First, we must realize that finding our voice is about listening. Listening to others, to different perspectives, to new ideas," said Thousand. "It is about being open-minded and willing to learn. It is about understanding that our individual voices are just one of many, and that there is strength in diversity. Here at OCC we are lucky to be involved with a diverse group of passionate students and faculty that can help us along the way."
Afternoon speaker AA'Shahla Al-Ali inspired others as she shared how OCC helped in her academic and life journey during difficult times.
"OCC will always be remembered as the time I took a chance on myself. When there were family pressures to work through as a single parent, OCC offered me an affordable, flexible option for my education," she remarked. "I made friends, I pursed an educational path that fits my personality, and I gained skills that have provided me with the opportunity to be currently working in a role that allows me to advocate for those who are unable to speak for themselves."
Student Marshal Monica Barrera's spoke via video sharing her educational journey at OCC began with taking English as a second language classes three years ago. She graduated with honors, earning double degrees with an associate in arts and an associate in science. During this time, "this shy girl from Mexico became more confident and found her voice by getting involved in OCC's student organizations." Today, her voice is being heard as an advocate for women's rights and the environment.
"If you were to tell me two years ago I would be in the honors society, I would not believe it. And the clubs I've been in are also a big accomplishment," she said. "It's crazy how confident I became. I took all the tools OCC gave me and made the best out of everything."
Barrera of Walled Lake plans to transfer to Michigan State University in the fall to study engineering.
Grandmother and Granddaughter Share Graduation
A grandmother, Patricia Bostwick, 74 of Birmingham, and her granddaughter, Brigid Lally, 23 of Rochester Hills, both graduated on Saturday with a certificate and associate degree, respectively. Bostwick has been an adjunct counselor at OCC's Royal Oak campus since 1990. She currently is the Director of College Counseling and Upper School Dean of Students at Roeper in Birmingham. She enjoyed photography as a hobby and began taking photography classes at OCC in 2004 and after 19 years she received her certificate in Photographic Technology.
Lally graduated with an associate in arts, Magna Cum Laude. She will attend Columbia College of Chicago to pursue acting. She began taking college classes at Calvin University and took a gap year after COVID hit. Her grandmother encouraged her to take classes at OCC to get her associate degree. Brigid's mother (who is Patricia's daughter) also attended OCC.
To view more OCC Graduate stories, go to Meet the Graduates at https://www.oaklandcc.edu/commencement/meet-the-grads-2023/.
To see the videos captured at OCC's 2023 Commencement, visit
Morning Ceremony: https://www.facebook.com/100064506021785/videos/239212152041196
Afternoon Ceremony: https://www.facebook.com/OCCofficial/videos/1300499613883650/
For photos of OCC's Commencement, visit https://www.flickr.com/photos/oaklandcc/albums/72177720308473411
About OCC
Oakland Community College offers nearly 100 degrees and certificates programs with the resources students need to be successful and advance our community. As a top transfer institution, OCC offers one of the state's most affordable tuition rates and flexibility in scheduling with face-to-face and online options. The College is nationally recognized for its high-demand career training with expert faculty in their fields. More than 1 million students have enrolled in the College since it opened in 1965. Learn more at  oaklandcc.edu.
###
Media Contact: Marketing & Communications | 248.341.2020 | contactus@oaklandcc.edu