After two years of holding virtual commencements due to the COVID-19 pandemic, OCC returned to live ceremonies for 2022 at Oakland University's O'rena. The ceremonies celebrated close to 1,600 OCC graduates who earned a certificate or an associate degree in applied science, arts, business administration, general studies or science.
In his remarks to the graduates, OCC Chancellor Peter Provenzano reflected on the challenges they faced as college students during a pandemic.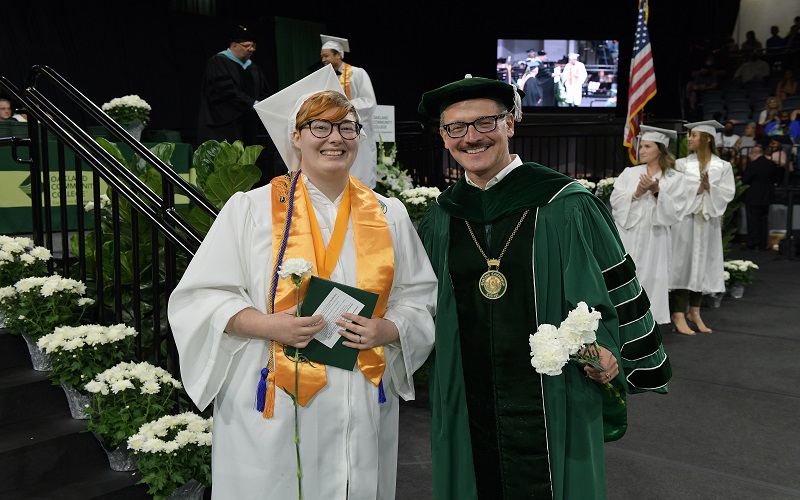 "As I stand here today, I couldn't be prouder of our students," Provenzano said. "You have never known a normal college experience. In fact, you have been called upon to redefine the typical college experience, first by overcoming unprecedented challenges generated by the pandemic. But it goes beyond that. You have also driven yourself through struggles at work and home to get to this day."
Keynote speaker Dr. Samino Scott II, executive director of the Pontiac Collective Impact Partnership, reminded the graduates of their incredible accomplishment that prepares them for earning a four-year degree or a career.
"Graduates, the transition that you endured from in-person learning to virtual learning at the height of a worldwide pandemic says a lot about your ability to persist throughout adverse circumstances and your commitment to personal growth," Scott said. "Now that you have this hard-earned credential, the next milestone for some of you will be your first full-time professional job or a career advancement. Others will transition towards the next educational milestone. Despite what you plan to do, the most important thing is to set clear goals for the next phase of your life."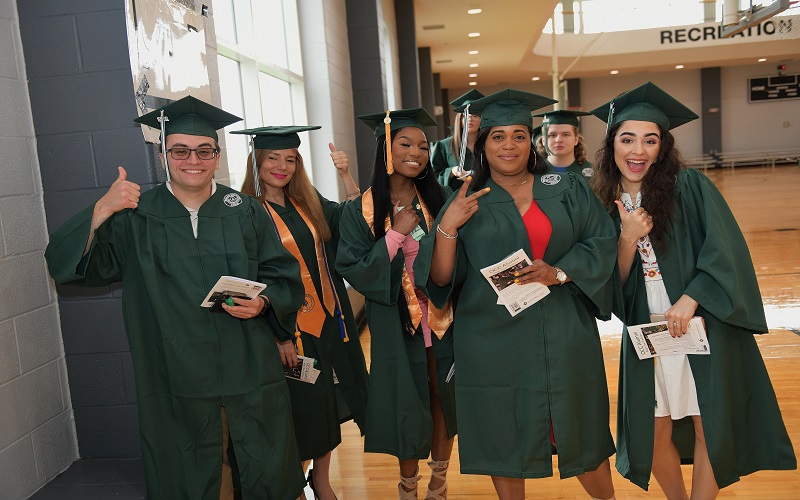 In addition to dealing with learning during a pandemic, many of the 2022 OCC graduates had a variety of other challenges and personal stories that made their journey even more rewarding.
"I graduated from an African high school at 16 years old and started college at OCC in January 2020 – right before the pandemic started here," said Mama 'Tamba' Jammeh of Southfield. "Now I'm graduating with my associate degree at 18."
Kelly Thalman, 36, of Clarkston, had to re-start her OCC education and her persistence paid off.
"I'm an adult learner who first came to OCC over 15 years ago," Thalman said. "I had no drive, no ambition, and I flunked out. Today, I'm a mom with four young children, a home décor business, and I'm graduating with two degrees!"
Check out the videos captured of this momentous day:
To view photos of the 2022 commencement, visit Flickr.
###
About OCC
Offering nearly 100 degrees and certificates, OCC is Michigan's largest multi-campus community college and one of the top transfer institutions in the state. The College provides academic, career training and enriching experiences, designed to empower students to reach their potential and enhance our community. More than 1 million students have enrolled in the College since it opened in 1965. A seven-person Board of Trustees governs OCC. Board members are elected on a non-partisan, at-large basis, serve as volunteers and are not paid. Mission statement: OCC is committed to empowering our students to succeed and advancing our community. Learn more at oaklandcc.edu.

Media Contact: Marketing & Communications | 248.341.2020 |contactus@oaklandcc.edu