If you look at snapshots of OCC student Brigid Lally's birthday parties, there's one person you'll always find celebrating alongside her from the very start – Grandmother Patricia Bostwick.
The two share the same birthday and now have a new special bond – graduating on the same day from Oakland Community College. Lally received an Associate in Art degree while Bostwick, an OCC adjunct counselor, received a certificate in Photographic Technology.
The occasion was marked at OCC's 57th annual commencement on May 20 at the O'rena.
"We've always had a special bond, and it's cool that we are now graduating together"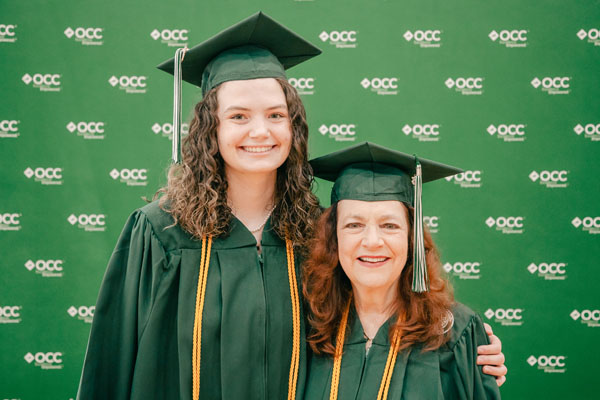 Bridgid Lally and her grandmother Patricia Bostwick at OCC's Commencement ceremony.
Lally, of Rochester Hills, shared the special bond she holds with her "cool" grandmother. Both are creative and advancing their skills through education, on their own terms.
After taking a gap year from Calvin University when COVID hit, Lally attended OCC and graduated Magna Cum Laude in May. She plans to attend Columbia College of Chicago to pursue a career in acting.
Bostwick's path is different. She took her first photography class 19 years ago at OCC's Royal Oak campus using a camera that required her to wind the camera's black and white film and process it in a dark room. She continued to sharpen her photography skills at OCC using a new digital camera and editing in Photoshop. She, too, graduated in May but with a certificate in the program.
An established professional, Bostick works part time at OCC as an adjunct counseling faculty member working with students on their educational and career goals. She also serves as full-time Director of College Counseling and Upper School Dean of Students at Roeper in Birmingham. Bostick knew there was opportunity at OCC for Lally to apply her pre-COVID university credits and earn an associate degree and encouraged her granddaughter to give the community college a try.
Bostwick said she is very proud of her granddaughter's accomplishments and that she chose OCC as part of her educational journey.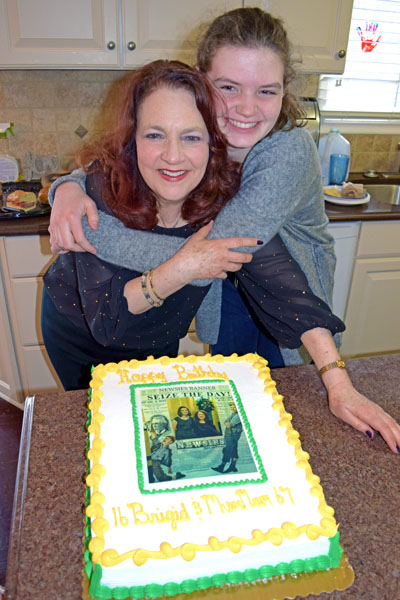 Bostwick and Lally celebrating their birthdays.
What does her granddaughter think?
"I hope this shows people that no matter what age you are, it's important to get an education," Lally said. "I know I'm only 23 years old, but I feel I'm graduating late because it took me so long to figure out what I wanted to do during COVID. If you want an education, OCC is the perfect place to go. You're not on a rushed schedule and a lot of the professors are great to work with, especially if you have a work schedule."
As one who grew up with digital cameras on her phone, Lally also shares she is impressed with how her grandmother's photography has developed over the years. Many of Bostwick's early photos were of Lally, her first grandchild, and, over the years, she enjoyed surprising her granddaughter with birthday cakes featuring photos she had taken of Lally.
"When I was young, my grandmother started with a lot of portraits of people and family members," she said. "Now she has moved toward nature and got into editing. I feel family is the driving force for her photography, and some of her best photos are anything that involves family."
"I was interested in photography as a hobby and wanted to be better at it," said Bostwick.
"You can get second chances and go on and be successful in the next phase of life. There is something for everybody here. OCC counselors really care about the kids. It's a generational experience where there are 18-year-olds and people my age, and they are all getting along and having fun."
As Lally walked across the stage to accept her first higher education degree, Bostwick had her digital camera and new certificate in hand to mark the occasion. Together.
About OCC
Oakland Community College offers nearly 100 degrees and certificates programs with the resources students need to be successful and advance our community. As a top transfer institution, OCC offers one of the state's most affordable tuition rates and flexibility in scheduling with face-to-face and online options. The College is nationally recognized for its high-demand career training with expert faculty in their fields. More than 1 million students have enrolled in the College since it opened in 1965. Learn more at  oaklandcc.edu.
###
Media Contact: Marketing & Communications | 248.341.2020 | contactus@oaklandcc.edu