Oakland Community College students and human rights activists, Tala Alahmar and Yuliia Lane, have joined an elite group of students across the nation as semifinalists for the highly competitive Cooke Undergraduate Transfer Scholarship. They were chosen from a pool of over 1,500 applicants attending 398 community colleges across the country.
Tala Alahmar's Story
Alahmar, originally from Syria, has held numerous leadership positions while at OCC, including being a field organizer for the Michigan Democratic Party and president of the Michigan Region for Phi Theta Kappa (PTK) Honor Society. Her speech about evolving from an introvert to someone who proudly uses her voice to share the value of diversity, equity, and inclusion, earned a spot as one of four national finalists in the 2020 Phi Theta Kappa (PTK) Virtual Speech Competition.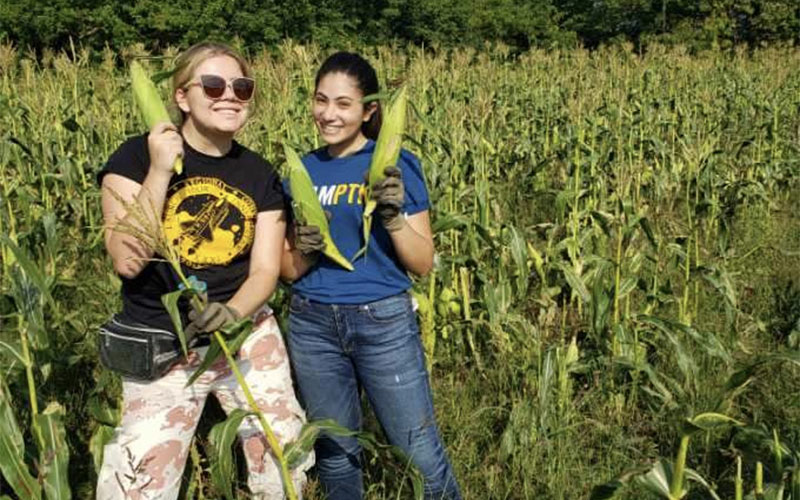 Yuliia Lane (l) and Tala Alahmar (r)
These experiences helped advance her goal to study International Relations at the University of Michigan. She graduates from OCC this spring with an associate in Arts degree.
Alahmar says when she first moved to the United States, she never thought she'd be selected for such a prestigious scholarship, given her inexperience. OCC paved the way for her higher educational journey.
"At OCC, I found my niche and a support system I grew up dreaming of, but never had until recently. Every instructor, faculty member and administrator I've encountered believed in me and helped me grow professionally and academically," Alahmar said.
She credits OCC faculty member Sharon Cicilian as a strong supporter, writing several recommendation letters to help Alahmar pursue her endeavors.
With this support, Alahmar now feels closer than ever to achieving her goal of obtaining a graduate degree from an Ivy League school and becoming an ambassador for the United Nations to advocate for human rights and prevent childhood traumas that result from war.
Yuliia Lane's Story
Lane, a first-generation college student and Ukrainian immigrant, is finishing her last semester at OCC to earn an associate in general studies degree. She says she has enjoyed being a student at OCC, where she felt like she truly belonged, was loved and respected.
Currently she serves as vice president of the Michigan Region of the PTK Honor Society. During her tenure at OCC she has served as student ambassador and recruiter and volunteered for the American Red Cross and Forgotten Harvest.
She said receiving the scholarship fund would help pursue her dream of transferring to the University of Michigan to obtain degrees in Psychology and International Relations. This decision came from experiencing trauma due to combat exposure and disaster during the Russo-Ukrainian War.
"My goal is to become an advocate for people who have undergone similar traumatic circumstances. I hope pursuing a degree in my two majors will open doors that will allow me to work in the public health field on an international scale," Lane said.
Even though she established herself as a strong leader in her community, she initially had doubts whether she should apply for the scholarship.
"By being very fortunate to have friends and family who encouraged me to overcome my fear, I made a decision to take on this opportunity of a lifetime."
Exceptional Students
OCC Academic Dean Cindy Carbone says these exceptional students are highly deserving of receiving these prestigious scholarships.
"Tala and Yuliia are perfect examples that there is no limit to what you can achieve with persistence. They have overcome obstacles with passion and hard work. We can't wait to see what the future holds for them."
The Undergraduate Transfer Scholarship recipients will be announced in April. Those selected as a Cooke Scholar can receive up to $40,000 per year to attend a four-year accredited undergraduate school for the final two to three years needed to earn a bachelor's degree.
Undergraduate Transfer Scholars will additionally receive opportunities for internships, study abroad, and graduate school funding, as well as connection to a thriving network of over 2,800 fellow Cooke Scholars and Alumni.
About OCC
Offering nearly 100 degrees and certificates, OCC is Michigan's largest multi-campus community college and No. 1 transfer institution in the state. The College provides academic, career training and enriching experiences, designed to empower students to reach their potential and enhance our community. More than 1 million students have enrolled in the College since it opened in 1965. A seven-person Board of Trustees governs OCC. Board members are elected on a non-partisan, at-large basis, serve as volunteers and are not paid. Mission statement: OCC is committed to empowering our students to succeed and advancing our community. Learn more at oaklandcc.edu.
###
Media Contact: Marketing & Communications | 248.341.2020 | contactus@oaklandcc.edu