Stacey Crews, dean of student services, selected by Michigan Chronicle to its 2022 list of leaders who inspire others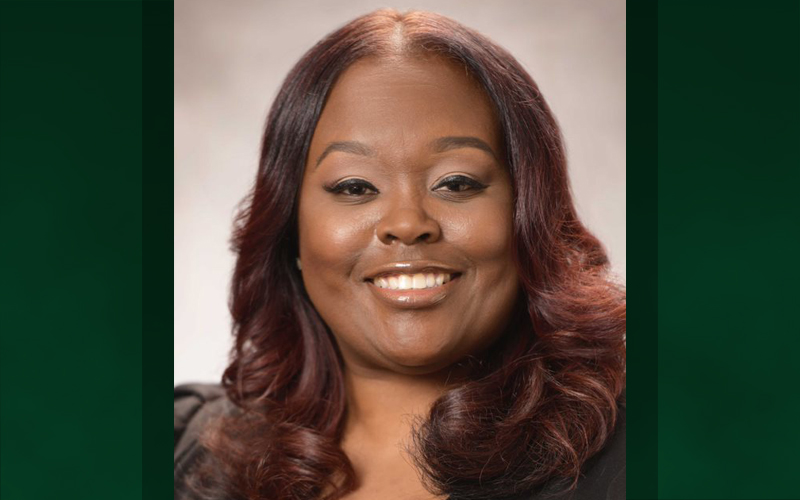 The Michigan Chronicle has recognized Oakland Community College Dean of Student Services Stacey Crews as a Michigan Chronicle 2022 Women of Excellence Honoree.
Crews is part of an elite group of 50 women in the community honored for demonstrated exceptional success in business, community involvement, and philanthropy. The Michigan Chronicle has given this award for the past 14 years, acknowledging women in Southeast Michigan. This year's theme is "Black Girl Magic."
Crews said she is honored and humbled to be selected out of over 600 nominees that were submitted this year.
"I am most proud of the work I've been able to accomplish at Oakland Community College and within the community. I am proud to represent OCC in this honor just as my husband, (faculty member) Dr. Lloyd Crews did in 2017 and (student service) Dean Jahquan Hawkins in 2021 as Michigan Chronicle Men of Excellence Honorees."
As dean of student services for the Royal Oak and Southfield campuses, Crews provides leadership in enrollment services, program administration, co-curricular programming development centered on student engagement, community outreach and supports the College's general education outcomes and ultimately student success. At OCC, Crews has also served as associate dean and dean of student services and coordinator of student development. She joined OCC from Aquinas College (her alma mater) where she served as director of multicultural affairs.
Crews has presented at several professional conferences on the topics of diversity, inclusion and student affairs at the American College Personnel Association (ACPA) and National Association of Student Personnel Administrators (NASPA) along with other state and local conferences. She has also co-authored and co-published the following journal article in 2013, "Women as leaders: Factors that affect career and personal success for black, female leaders and strategies to overcome them."
Her professional involvement stems from her service as a past president of the Michigan College Personnel Association (MCPA), a state-wide organization of student affairs professionals from two and four-year institutions. She has been named a Diversity Champion by her OCC colleagues and the Birmingham/Bloomfield Diversity Taskforce; selected as a Michigan Community College Leadership Academy fellow; a former member of the City of Oak Park Cultural Diversity Commission; and is a current board member for the Hazel Park Promise Zone.
Crews has served on the steering committee for the Achieving the Dream initiative on Learning Communities; a member of the advisory team for Phi Theta Kappa; and the College's Student Ambassador program. In addition, she has also been a coordinator of the OCC Man Up Program since its inception. The Man Up program is a high-school dual-enrollment partnership with Oakland County Schools.
Most recently she has developed a pilot Peer Mentoring program at OCC. The Peer Mentoring Program is designed to provide a connection for Promise Zone students in their transition to the OCC community by providing support and resources to increase their success and engagement.
In addition to her administrative leadership responsibilities, Crews has taught as an adjunct faculty member in OCC's Academic Support Center as well as the Behavioral Sciences department at OCC and Wayne State University.
Crews will be honored at an awards and induction ceremony on Thursday, March 31, 2022 at the International Banquet and Conference Center, 400 Monroe Street, 8th floor, Detroit.
###
About OCC
Offering nearly 100 degrees and certificates, OCC is Michigan's largest multi-campus community college and No. 1 transfer institution in the state. The College provides academic, career training and enriching experiences, designed to empower students to reach their potential and enhance our community. More than 1 million students have enrolled in the College since it opened in 1965. A seven-person Board of Trustees governs OCC. Board members are elected on a non-partisan, at-large basis, serve as volunteers and are not paid. Mission statement: OCC is committed to empowering our students to succeed and advancing our community. Learn more at oaklandcc.edu.
Media Contact: Marketing & Communications | 248.341.2020 | contactus@oaklandcc.edu