Compliments to, and of, the Chefs!
The need to help fight hunger in Oakland County has only increased with the recent pandemic, and the chefs from OCC's Culinary Institute knew they had the resources to help feed those in need. So they cooked a healthy hot lunch in the College's instructional kitchens and transported it to the Baldwin Center in Pontiac. There, they prepared 175 grab-and-go lunches for people in need as part of Baldwin's "Feed the Need" program.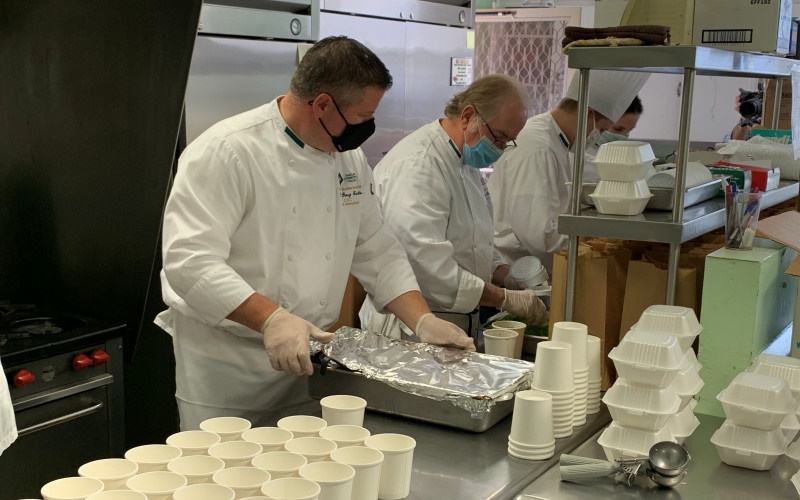 OCC Chefs prepare 175 hot meals at the Baldwin Center kitchen for the Feed the Need program
OCC Department Chair for the Culinary Institute, Chef Doug Ganhs, said that the culinary team really wanted to provide a good meal for the program as hunger has become an even bigger problem due to the pandemic.
"In the past, many restaurants would donate to food programs like Feed the Need but since the pandemic, food donations have greatly declined because many restaurants are closed," Ganhs said. "But we have the resources to provide meals for those in need and we thought this was a great way to help our community during these tough times. "
Using food that was in the beginning stages of preparation at OCC's culinary kitchens on the Orchard Ridge campus in Farmington Hills, the chefs made savory, chicken stir fry with vegetables and rice, and topped it off with some large, fresh-baked cookies. Five OCC chefs then packaged the food at the Baldwin Center kitchen into 175 grab-and-go lunch bags to give those relying on the Feed the Need program.
Heather Duenas of the Baldwin Center said they usually serve more than 40,000 meals a year but the pandemic has definitely increased the need for food.
"We can't serve food in our facility like we used to due to the pandemic, so we now serve bag lunches-to-go," Duenas said. "Any family member can take as many lunches as they need to feed their entire family, which is especially important with schools closed to make sure children don't go hungry."
She said Feed the Need is always looking for something other than ham sandwiches, so the hot food provided by OCC's culinary team is a special treat for Baldwin's clients.
"OCC is the first organization to donate a hot meal, and it gives our clients a chance to eat gourmet food that they wouldn't have the opportunity do otherwise."
Chef Julie Selonke, OCC's Culinary Institute program coordinator, said prepping the food in the College's culinary kitchens and transporting for packaging added an extra step necessitated by the safety measures needed during the pandemic, but the chefs are happy to help anyway they can.
"Personally I am humbled and grateful to be able to help people in this time of need and take away the worry they have wondering how they will get lunch for their families," Selonke said. "This is also the first time all the OCC chefs have been able to get back into the kitchen and work together since the the executive orders, and we are all thrilled to be able to do something this special and give back to the community."
In addition to Chef Gahns and Chef Selonke, other OCC culinary staff who took part included Chef Athena Bolger, Chef Kevin Enright and Jason Smith.
About OCC
Offering nearly 100 degrees and certificates, OCC is Michigan's largest multi-campus community college and No. 1 transfer institution in the state. The College provides academic, career training and enriching experiences, designed to empower students to reach their potential and enhance our community. More than 1 million students have enrolled in the College since it opened in 1965. A seven-person Board of Trustees governs OCC. Board members are elected on a non-partisan, at-large basis, serve as volunteers and are not paid. Mission statement: OCC is committed to empowering our students to succeed and advancing our community. Learn more at oaklandcc.edu.
###
Media Contact: OCC Marketing & Communications | 248.341.2020 | contactus@oaklandcc.edu