Six months, two nights a week and every other Saturday. Climbing stairs and ladders, carrying up to 100 pounds of gear, going into flashovers upwards of 1,000 degrees and lugging hose. Nightly homework and weekly tests.
That was what OCC's Academic Dean of Public Services David Ceci did as a part-time student in Oakland Community College's Fire Fighter Technology-Fire Academy. He graduated this summer alongside 24 other cadets – many younger than him – to earn a certificate of achievement.
He learned – and earned – much more.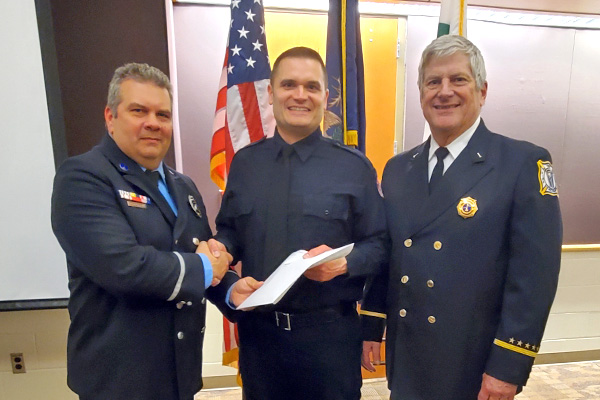 Academic Dean of Public Services David Ceci (center) receives his certificate of achievement after graduating from the Fire Academy.
An alumnus of the College's Police Academy, Ceci spent 18years as a police officer. In 2016, he was named OCC's Dean of Public Services/CREST as well as Director of Law Enforcement Training. As academic dean, Ceci oversees the College's full scope of Public Services' degree and training programs which include Criminal Justice degrees and certificates, the Oakland Police Academy, the Fire Training Institute, EMS Academy, K-9 Academy and 911 Dispatch Academy.
While Ceci is very knowledgeable about all of OCC's Public Services program areas, he wanted to take a deeper dive into the fire training program.
"I really wanted to get the full student experience, so I decided to earn the Fire Academy certificate myself and see firsthand what the classes and hands-on training were all about," Ceci said.
According to Ceci, the experience provided him with a bona fide look at the program and improved his vantage as dean to ensure the full student experience was even better. As he looked at the fire training program with fresh perspective, he also encountered the day-to-day realities students face with financial aid, work/study challenges and curriculum designed to ensure student success. The 12-credit program includes courses on Rescue and Extrication, Fundamentals of Fire Prevention, Hazardous Materials and Fire Service Hydraulics and Water Supply. The courses included both classroom lectures and hands-on experience using OCC's Combined Regional Emergency Services Training facilities (CREST) at the Auburn Hills campus.
"Obviously the instructors deserve a lot of credit because I was concerned that having me in their classes would be awkward for them," he said. "But they were great and really treated me like any other student, which is exactly what I wanted to experience."
The time away also put a strain on his family as he balanced work and study. He found his "kids missed me more than expected."
As a result of his experience, he has some recommendations on how to restructure the course delivery to improve the way students process the information and to add more hands-on experiences to enhance their understanding of how the in-class learning relates to the fire-fighting job.
The Academy family night and graduation also took on new meaning as he moved from administrator to student.
"We were all excited to come together at family night. My kids loved seeing me in my gear and they were really proud at graduation. I was too–not only for the experience I gained but for our cadets and instructors who ensure OCC students are ready with the lifesaving skills required for the front lines," he said.
"While I have taken many continuing education courses to keep up-to-date on the latest public services trends and issues, being an actual student in our program brought a whole new perspective to my education," Ceci added. "The great thing is that it just confirmed what I already knew about our instructors and our students–they are incredible!"
For more information about OCC's Public Safety programs, visit https://www.oaklandcc.edu/crest/default.aspx.
###
About OCC
Offering nearly 100 degrees and certificates, OCC is Michigan's largest multi-campus community college and one of the top transfer institutions in the state. The College provides academic, career training and enriching experiences, designed to empower students to reach their potential and enhance our community. More than 1 million students have enrolled in the College since it opened in 1965. A seven-person Board of Trustees governs OCC. Board members are elected on a non-partisan, at-large basis, serve as volunteers and are not paid. Mission statement: OCC is committed to empowering our students to succeed and advancing our community. Learn more at oaklandcc.edu.
Media Contact: Marketing & Communications | 248.341.2020 | contactus@oaklandcc.edu