The sounds of Sousa, Swing and seasonal favorites will fill the air as the OCC music department presents two free band concerts in December.
The OCC Jazz Band, under the direction of Tom Dennis, will perform Thursday, Dec. 5, 7:30 p.m. – 8:45 p.m., in the Smith Theater on the Orchard Ridge Campus. The 20-piece swing band features a female and male vocalist, and includes OCC music students and members of the community. The Orchard Ridge Campus is located at 27055 Orchard Lake Road in Farmington Hills.
"The community jazz band performs hits from the 30s and 40s all the way to contemporary selections like Michael Bublé," said Dennis, director, OCC music program.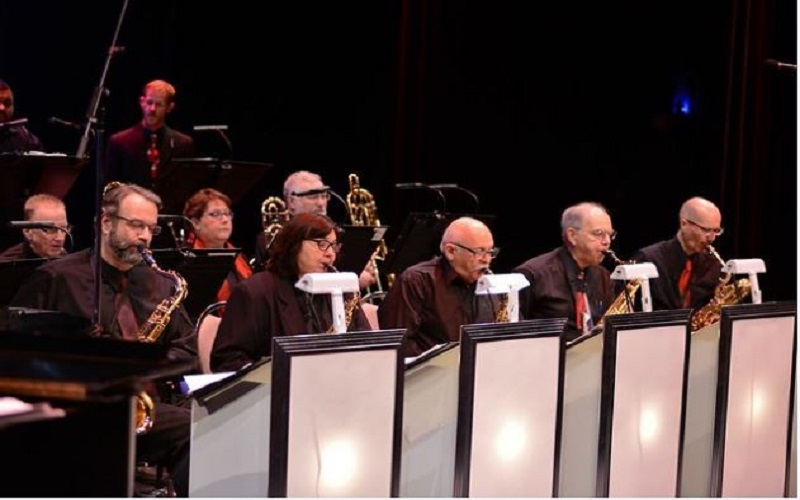 "The concert will be entertaining and fun, and offers a great way to relax before the busy holiday season."
The OCC Concert Band, under the baton of Fred Junod, OCC band director, will perform the semester-end concert Friday, Dec. 13, 8 p.m. – 10 p.m., in the Highland Lakes Student Center. The Concert Band will perform selections from John Phillip Sousa and traditional seasonal favorites. The Highland Lakes Campus is located at 7350 Cooley Lake Road in Waterford.
OCC music students perform in orchestra, jazz, concert, small ensemble or choir concerts throughout the year, and participate in festivals, showcases and competitions.
"The OCC music program is a unique combination of degree coursework and enrichment programming," said Dennis. "It provides a creative outlet for members of the community, and an educational pathway for students interested in pursuing a career in music. Musicians meet each other in classes and frequently form small ensembles and bands that perform in venues throughout the community."
Students can earn an associate of arts degree with a concertation in music. Program coursework includes theory, history, piano, conduction, composition, lessons, and performance. OCC has an articulation agreement with Wayne State University that allows OCC's associate degree to count as 50 percent of a four-year degree at WSU. "The OCC program offers students a cost-effective way to learn, perform and pursue their passion in a friendly, knowledge and supportive environment," said Dennis.
For more information about OCC's Music program, visit https://oaklandcc.edu/programs/mus/default.aspx.
About OCC
With multi campus system in Oakland County, OCC is Michigan's number one transfer institution, offering nearly 100 excellent degrees and certificates. The College empowers academic and developmental experiences, allowing students to reach their full potential and enhance the communities they serve. More than a million students have enrolled in the College since it opened in 1965. Learn more at oaklandcc.edu.
###
Media Contact: Marketing & Communications | 248.341.2020 | contactus@oaklandcc.edu