OCC is committed to empowering our diverse community through cultural awareness and education for greater equity, inclusion and justice. To that end, the College's Office of Diversity, Equity, Inclusion and Justice (DEIJ) offers a number of events and experiences to students, employees and community members throughout the year to create a more inclusive environment for all.
Oakland Community College DEIJ Events: Fall 2022
Visual Vernacular
[In-Person Event]Thursday, Sept. 22, 6:30—8 p.m. | Orchard Ridge Campus, Smith Theatre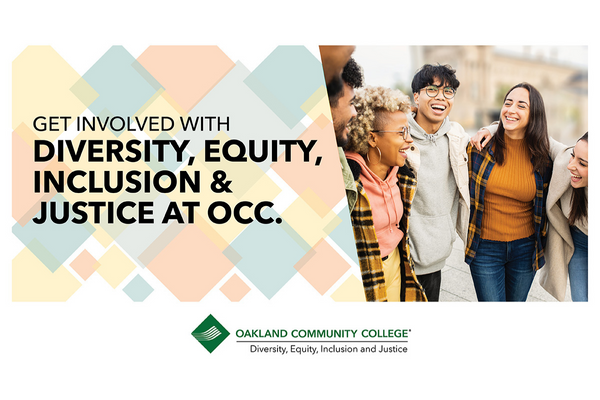 Award-winning American Sign Language (ASL) performer Justin Perez brings his Visual Vernacular performance to OCC in observance of Deaf Awareness Month (September) and International Week of the Deaf (Sept. 19—23, 2022). Individuals at all levels of ASL familiarity, including no experience to full fluency, are invited and an interpreter will be available. This event is co-sponsored by the Office of DEIJ and OCC's SIGN Club. Click here to learn more and register.
NAMI Walk
[In-Person Event] Saturday, Sept. 24, 8 a.m.—noon | Wayne State University (42 W. Warren Ave, Detroit MI 48202)
Join "OCC Team Inclusion" as we walk for a cause! OCC employees, students and friends are invited to participate in NAMIWalks Your Way 2022 and demonstrate support for mental health initiatives. NAMI (National Alliance on Mental Illness) is the nation's largest grassroots mental health organization dedicated to building better lives for the millions of Americans affected by mental illness. Click here to register or donate.
Cultural Insights & Understanding: Hispanic/Latina/o/Latinx
[Virtual Event]Thursday, Oct. 6, Noon—1 p.m. | Online
The panel of subject experts will explore the difference between the terms "Hispanic" and "Latina/o/x," what they mean and why some may prefer one over the other. Click here to learn more and register.
OCC Day at the DIA: Hispanic Heritage Month
[In-Person Event]Tuesday, Oct. 4, | 1:30—4:30 p.m.
OCC students and employees travel to the DIA in celebration of Dia de Muertos to explore a community exhibition of ofrenda altars. In Mexico, and other Latin American countries, the Day of the Dead is the time of the year to celebrate the lives of close relatives, friends or community members who have passed away. Objects important to lost loved ones, such as favorites foods, drinks, mementos and pictures, are collected and incorporated into elaborate displays that include pan de muerto (bread of the dead), sugar skulls, candles, flowers, papel picado (paper cutouts) and other decorations. Chartered bus service will be offered to the first 40 people to register. The bus will depart from OCC's Royal Oak campus at 1:15 p.m. and return by 4:30 p.m. For those not riding the bus, please meet at the DIA main entrance by 2 p.m. Click here to learn more and register.
Autism Summit
[Virtual Event]Tuesday, Oct. 11, 9 a.m.—1 p.m. | Online
Join us to increase your awareness and learn strategies to connect with individuals living with autism. The event features a student and an expert panel as well as keynote speaker Talila A. Lewis. Click here to learn more and register.
Sabores y Sazones de América Latina…Flavors & Seasonings of Latin America
[In-Person Event] Thursday, Oct. 13, 11:15 a.m.—1 p.m. | Orchard Ridge campus
In celebration of Hispanic Heritage Month, the DEIJ team has joined forces with OCC's Culinary Studies Institute to invite you to a delicious lunch buffet featuring cuisine from different Latin/Hispanic countries. Ven a celebrar con nosotros (Come celebrate with us!). Click here to learn more and register.
Policing Today: Racial Justice Within the Criminal Justice System
[Virtual Event]Wednesday, Nov. 2, 6—7:30 p.m. | Online
This panel will explore what it's like being a person of color working within the criminal justice system and the disparate danger Black and Brown people face in law enforcement interactions. Click here to learn more and register.
Myths and Misnomers About Native American Culture
[Virtual Event]Thursday, Nov. 3, noon—1 p.m. | Online
Many people seem to have stories of Native ancestors, or stories of encounters with Native people in family history. While others are interested in the cultures here in Michigan, and around the country. Learn about the myths, untruths and misinformation and our broader culture which harbors information that is colloquial, uninformed and often insulting. Let's talk about the "do this, don't do that" sorts of words, behaviors and attitudes that can help support a positive and rich relationship with Native peoples. Click here to learn more and register.
Thanksgiving from a Native American Perspective
[Virtual Event]Tuesday, Nov. 15, noon—1 p.m. | Online
Teaching about Thanksgiving from the perspective of the Native Americans is a culturally responsive way to approach the holiday. Considering the origins, many people wonder if Native Americans even celebrate Thanksgiving. Dr. Browning Neddeau will address this question and more. Click here to learn more and register.
To learn more about Diversity, Equity, Inclusion and Justice at Oakland Community College and stay up to date with events throughout the year, visit OCC's DEIJ website.
###
About OCC
Offering nearly 100 degrees and certificates, OCC is Michigan's largest multi-campus community college and one of the top transfer institutions in the state. The College provides academic, career training and enriching experiences, designed to empower students to reach their potential and enhance our community. More than 1 million students have enrolled in the College since it opened in 1965. A seven-person Board of Trustees governs OCC. Board members are elected on a non-partisan, at-large basis, serve as volunteers and are not paid. Mission statement: OCC is committed to empowering our students to succeed and advancing our community. Learn more at oaklandcc.edu.
Media Contact: Marketing & Communications | 248.341.2020 | contactus@oaklandcc.edu