New program manager aims to take OCC's exceptional program – the only nationally and internationally accredited fire academy in Michigan – to new heights.
Dennis Cotton, a lieutenant with the West Bloomfield Fire Department, has been selected as the Fire Training Institute program manager at Oakland Community College. In addition to serving West Bloomfield as a first responder and department supervisor, Cotton has also served as fire academy coordinator at OCC since 2004.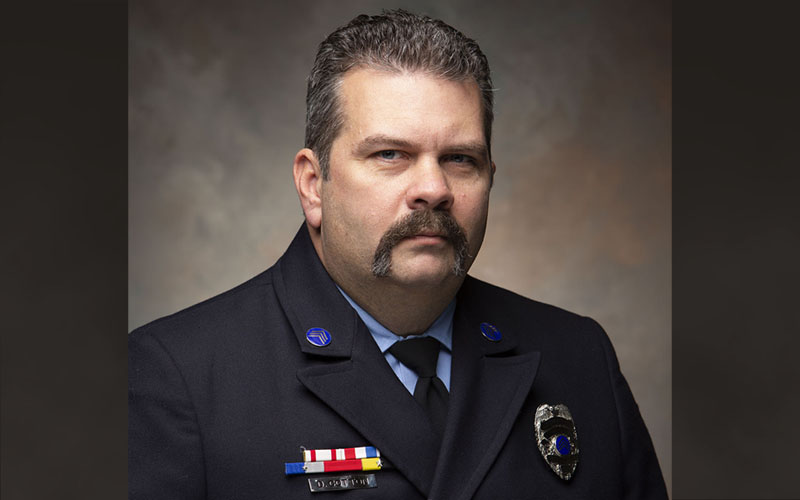 Lt. Dennis Cotton
Academic Dean David Ceci, of the College's Public Services and Combined Regional Emergency Services Training (CREST), says Cotton's reputation in the field and classroom and expertise in curriculum development will elevate OCC's Fire Training Program to the next level.
"Dennis is committed to student success and has a clear vision of how to grow and enhance OCC's fire training programs," said Ceci.
In addition to his role with the West Bloomfield Fire Department and OCC, Cotton serves as rescue specialist for Michigan Task Force 1 and an instructor for the Regional Alliance for Firefighter Training.
Cotton says he is ready to increase the visibility and efficiency of OCC's Fire Training Institute through a proactive approach to the development and implementation of basic and advanced fire training.
"For more than 16 years that I have worked at OCC's Fire Training Institute, this prestigious program has become a source of personal and professional pride," he said. "It is my goal that during my professional career here, this program will continue to garner the strong support of the community it services and will be considered an example for other departments and colleges to emulate."
Cotton replaces Matthew Majestic, who has been named the Oxford Fire Department's new assistant chief.
The Oakland Fire Training Institute provides the most current training available to the fire service at its state-of-the-art training facility located at the Combined Regional Emergency Services Training (CREST) center on OCC's Auburn Hills campus. The training center includes a burn tower; new fire truck with state-of-the-art equipment design for fire-fighter training; ladder pumper and tanker trucks: and the only fire truck driving simulator in Michigan.
The program has the highest passing rate for the State of Michigan's Fire Fighter certification requirements. Nearly a third of Oakland County fire chiefs are alumni of the Oakland Fire Training Institute.
About OCC
Offering nearly 100 degrees and certificates, OCC is Michigan's largest multi-campus community college and No. 1 transfer institution in the state. The College provides academic, career training and enriching experiences, designed to empower students to reach their potential and enhance our community. More than 1 million students have enrolled in the College since it opened in 1965. A seven-person Board of Trustees governs OCC. Board members are elected on a non-partisan, at-large basis, serve as volunteers and are not paid. Mission statement: OCC is committed to empowering our students to succeed and advancing our community. Learn more at oaklandcc.edu.
Media Contact: Marketing & Communications | 248.341.2020 | contactus@oaklandcc.edu