Students at Marion Law Academy will have new desks to start the school year thanks to Oakland Community College and the Marilyn Violet Foundation (MVF).
OCC Board of Trustees Chair Pamela Jackson and her daughter, Melissa Jackson, organized the donation through the Foundation, a non-profit dedicated to a holistic approach of helping families in need in metro-Detroit, New York City and nationwide.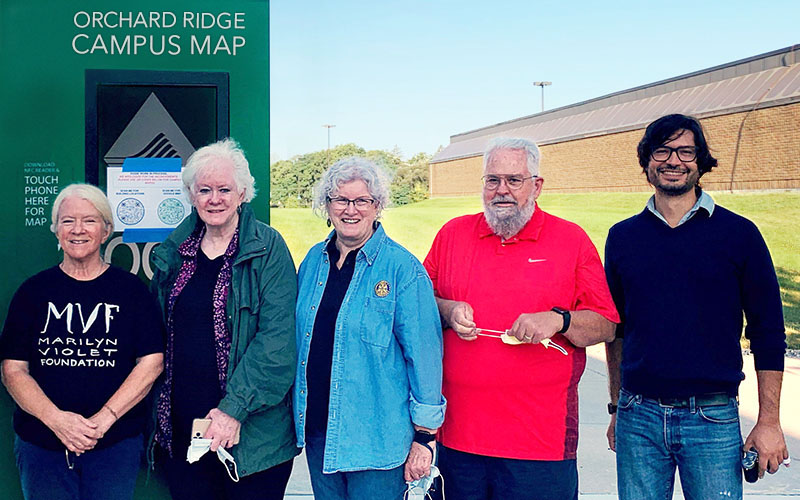 Pictured above: Linda Jackson, MVF volunteer; Pamela Jackson, OCC Board of Trustee Chair and MVF volunteer; Lorrie McVey, Lakes Area Rotary member; Paul McVey, Lakes Area Rotary member; and Nikhil Melnechuk, MVF Board member.
OCC donated 420 sled base school desks to the K-8 academy as the College upgrades student desks across campuses.
MVF was founded in 2015 by Melissa in honor of her grandmother, Marilyn Violet Jackson, whose path from poverty to success inspired Melissa to become an actress and pursue her passion for art and activism. MVF provides children with a full year of school supplies in Project Backpack, teaches essential health and wellness skills in Project Wellness, and builds confidence and communications skills necessary for success in Project StoryLab.
See additional photos on Flickr.
About OCC
Offering nearly 100 degrees and certificates, OCC is Michigan's largest multi-campus community college and No. 1 transfer institution in the state. The College provides academic, career training and enriching experiences, designed to empower students to reach their potential and enhance our community. More than 1 million students have enrolled in the College since it opened in 1965. A seven-person Board of Trustees governs OCC. Board members are elected on a non-partisan, at-large basis, serve as volunteers and are not paid. Mission statement: OCC is committed to empowering our students to succeed and
advancing our community. Learn more at oaklandcc.edu.
###
Media Contact: Marketing & Communications | 248.341.2020 | contactus@oaklandcc.edu