High-quality reproductions from DIA collection on display, May through October 2023
OCC continues its DIA partnership with the art museum's popular Inside|Out program. The College is displaying 15 new high-quality reproductions replacing the reproductions formerly featured on its campuses this past year.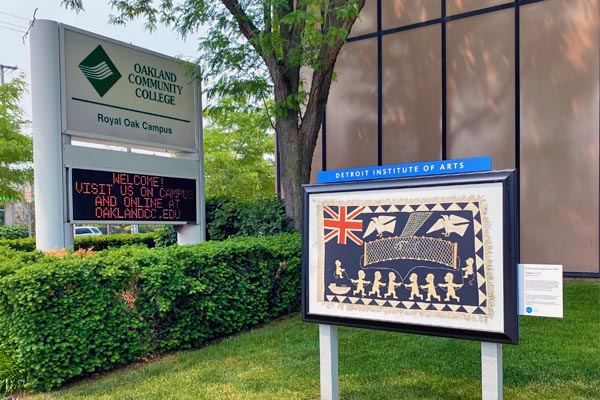 OCC partnered with the DIA in 2019 to annually showcase reproductions of the art museum's famous collection on its five campuses.
The 15 new reproductions will be featured May through October and include:
Auburn Hills
-Blue Madonna, Bob Thompson
-Ford Rouge Plant (From Dix Rd. Bridge), Russ Marshall
-Berenice Reproaching Ptolemy, Jean-Joseph Taillasson
-Untitled, Edouard Duval-Carrie
Highland Lakes (Waterford)
-Violinist and Young Woman, Edgar Degas
-Girl and Laurel, Winslow Homer
-Mushhushshu-dragon, Symbol of the God Marduk, Unknown Artist, Babylonian, Mesopotamian
Orchard Ridge (Farmington Hills)
-Untitled, Karin Kneffel
-Nocturne in Black and Gold, the Falling Rocket , James Abbott McNeilI Whistler
-The Recitation, Thomas Dewing
-Animals in a Landscape, Franz Marc
Royal Oak
-John Montresor, John Singleton Copley
-Asafo Flag, Unknown Artist, Fante
-Flowers in a Glass Vase, Rachel Ruysch
Southfield

-Dancers in a Green Room, Edgar Degas
"We are pleased to continue the Inside|Out partnership with the DIA we began four summers ago and excited that we have all new reproductions from the museum's collection on our campuses," said OCC Chancellor Peter Provenzano. "Continuing to be part of the program through October gives our students, employees and the local community an additional opportunity to enjoy the important subject matter and history that each piece represents."
Information about where to find Inside|Out installations, including the ones featured on OCC's five campuses, can be found at dia.org/insideout.
About OCC
Oakland Community College offers nearly 100 degrees and certificates programs with the resources students need to be successful and advance our community. As a top transfer institution, OCC offers one of the state's most affordable tuition rates and flexibility in scheduling with face-to-face and online options. The College is nationally recognized for its high-demand career training with expert faculty in their fields. More than 1 million students have enrolled in the College since it opened in 1965. Learn more at oaklandcc.edu.
###
Media Contact: Marketing & Communications | 248.341.2020 | contactus@oaklandcc.edu