Expands collection to 18 reproductions with three new pieces added to Royal Oak campus
The fall semester at OCC will again feature the energy of students filled with the passion to learn and reach their academic goals. And along with the hustle and bustle on the College's five campuses will be some high-quality art reproductions compliments of the Detroit Institute of Arts to provide some serenity and added beauty as students traverse the campuses.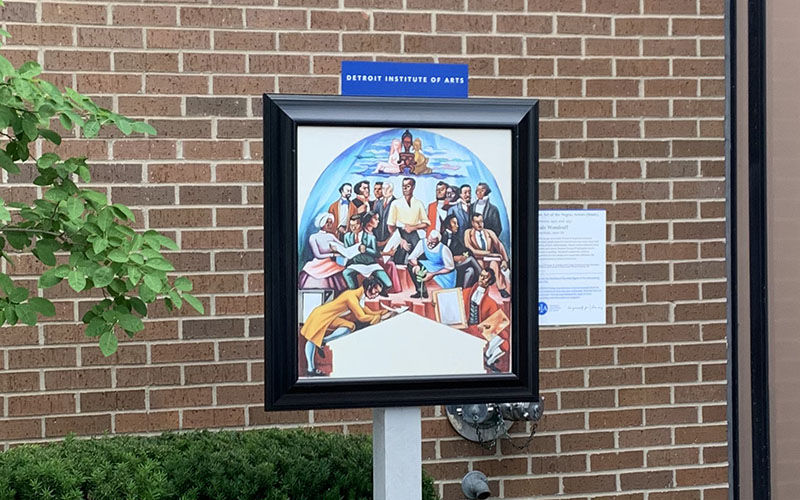 One of the new DIA art reproductions on the Royal Oak campus.
The DIA's popular Inside/Out program brings high-quality reproductions from the DIA's collection to outdoor venues throughout metro Detroit, including OCC's five campuses throughout Oakland County. OCC has been part of the Inside/Out program for two years and plans to continuing displaying the 15 reproductions it currently has on its' campuses through October, while adding three new pieces of art on the Royal Oak campus. The 18 reproductions will be on view outdoors and located on the main walkways of OCC campuses to enable easy viewing by students, staff and the community.
The art reproductions featured on the OCC campuses include well-known pieces such as "A Day in June" by George Wesley Bellows, Auburn Hills campus; "Café Scene in Paris" by Henri Gervex, Highland Lakes campus; "View of Le Croytoy from Upstream" by Georges Seurat, Orchard Ridge campus; "Portrait of Postman Roulin" by Vincent van Gogh, Royal Oak campus; and "Boy with Plaid Scarf" by Robert Cozad Henri, Southfield campus.
The three new reproductions on the Royal Oak campus include "Savoy Ballroom" by Reginald Marsh; "The Art of the Negro" by Hale Woodruff; and "Ford Rouge Plant" by Russ Marshall.
"Our campuses are a perfect backdrop for featuring these fabulous art reproductions because each piece tells a story and creates an emotional response that increases creativity and helps spur discussions," said OCC Chancellor Peter Provenzano, Jr. "Continuing to be part of the DIA Inside/Out program through October will give our students, staff and the local community an additional opportunity to enjoy the important subject matter and history that each piece represents."
###
About OCC
Offering nearly 100 degrees and certificates, OCC is Michigan's largest multi-campus community college and No. 1 transfer institution in the state. The College provides academic, career training and enriching experiences, designed to empower students to reach their potential and enhance our community. More than 1 million students have enrolled in the College since it opened in 1965. A seven-person Board of Trustees governs OCC. Board members are elected on a non-partisan, at-large basis, serve as volunteers and are not paid. Mission statement: OCC is committed to empowering our students to succeed and advancing our community. Learn more at oaklandcc.edu.
Media Contact: Marketing & Communications | 248.341.2020 | contactus@oaklandcc.edu