OCC colleagues have described Sandra Harrold-Foster as someone who is always respectful while calling out unfairness and inequities when she sees them. She is known to continuously go above and beyond her job as a buyer on the finance team to help plan college-wide events such as the Black History Month Luncheon and programming for Martin Luther King, Jr. Convocation. Others have shared how she holds herself and the College to the vision of "excellence in all we do."
For these reasons and more, Harrold-Foster of Waterford, been selected 2023 Diversity Champion at Oakland Community College.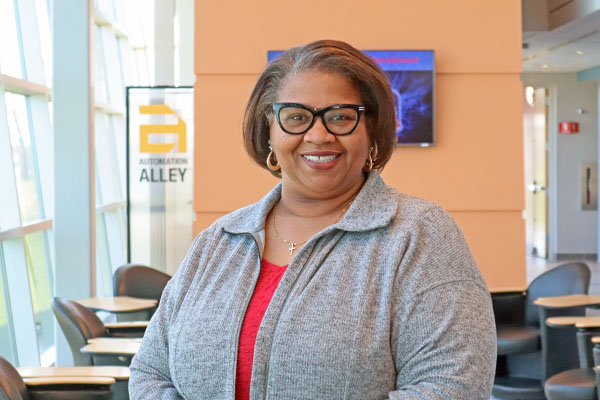 Sandra Harrold-Foster
She joins a long list of Diversity Champions recognized by OCC each year since 1999. Previous recipients have been commended for their dedication to prioritizing DEIJ issues, commitment to students and colleagues, and leadership during times of change and uncertainty.
In her previous role as purchasing and auxiliary services assistant, Harrold-Foster provided a warm welcome to new employees needing a Raider One card and ready, without fail, to answer questions about processes and procedures that were confusing or unfamiliar.
"Oakland Community College is lucky to have someone like Sandra on the team who is welcoming, inclusive, and wants to make the College a better place for all of our employees," said Kristina Marshall, OCC's director of Diversity, Equity, Inclusion and Justice (DEIJ).
For Harrold-Foster, this award shines a light on the value of learning from other's experiences and sharing them with each other.
"DEIJ is critical to establishing peace and harmony in our schools and in our neighborhoods, where we all dwell together," said Harrold-Foster. "The Diversity Champion Award is a significant recognition of those who are impacting their areas of influence with awareness and information, leading to the manifestation of the true meaning of diversity. I am honored to join the names of other OCC champions who have made such remarkable contributions."
Inaugural College-wide DEIJ Empowerment Summit
The 2023 Diversity Champion was announced at OCC's second annual DEIJ Empowerment Summit on Friday, April 14. The summit was hosted by the College's Office of DEIJ and included Marshall, Chancellor Peter Provenzano and Vice Chancellor for Human Resources and Diversity, Equity, Inclusion & Justice Andre' Poplar.
Summit participants heard from renowned DEIJ speaker Loretta J. Ross, professor at Smith College in the Program for the Study of Women and Gender. Ross teaches Smith College courses on white supremacy, human rights, and calling in the call out culture. She is an award-winning, nationally recognized expert on racism and racial justice, women's rights and human rights.
Summit topics ranged from the significance of DEIJ initiatives in the overall College strategic plan to a review of accomplishments since the launch of the DEIJ office in 2021 as well as an important look ahead and opportunities for the entire college community to engage through education and change.
For further information on DEIJ initiatives, visit the Office of DEI.
About OCC 
Oakland Community College offers nearly 100 degrees and certificates programs with the resources students need to be successful and advance our community. As a top transfer institution, OCC offers one of the state's most affordable tuition rates and flexibility in scheduling with face-to-face and online options. The College is nationally recognized for its high-demand career training with expert faculty in their fields. More than 1 million students have enrolled in the College since it opened in 1965. Learn more at  oaklandcc.edu.  
###
Media Contact: Marketing & Communications | 248.341.2020| contactus@oaklandcc.edu