Bill Konkolesky, Academic Support Center Paraprofessional, and Beverly Stanbrough, Dean of College Readiness, recognized by colleagues for their advocacy and leadership

Embodies and serves as the conscience of diversity, equity, inclusion and justice. Speaks out and is a doer whose actions speak of respect for others. Does not settle for status quo with their influence and impact for change.
These core values exemplify a champion of diversity, equity, inclusion and justice. These are also used to describe Oakland Community College's Diversity Champions in their words, actions and deeds.
"Across the country, we are living in a time of continued uncertainty – as well as optimism, tremendous hope for health and healing, and an opportunity for change," said OCC Chancellor Peter Provenzano. "I am so proud of our entire OCC community as we make a difference by listening, learning and empowering our students, and each other, with an unwavering commitment to these core values."
Provenzano shared his thoughts at the College's annual Martin Luther King, Jr. Convocation event on Jan. 15 as he introduced OCC's 2020 and 2021 Diversity Champions, awarded by the College's Committee for Diversity, Equity, Inclusion and Justice.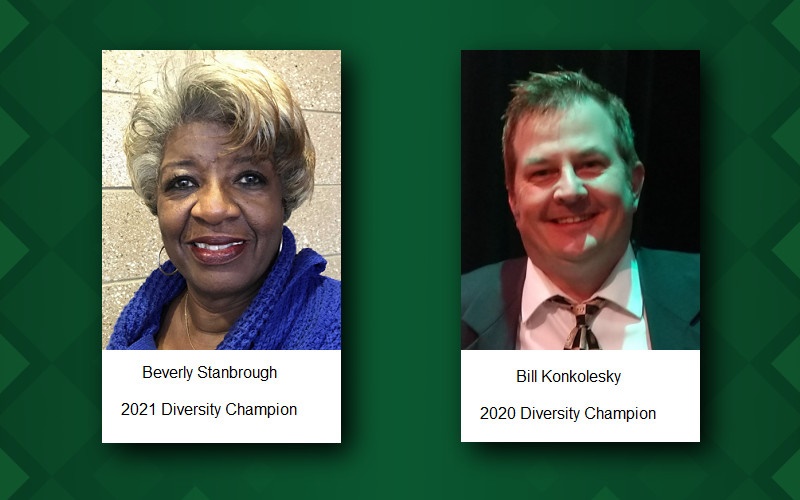 OCC's 2020 Diversity champion is Bill Konkolesky, Academic Support Center Paraprofessional at the Southfield Campus. Konkolesky was nominated by colleagues Allison McFadden-Keesling and Marikay Clancy. Konkolesky is an 18-year veteran of the College and the longest-standing member of OCC's Committee on Diversity, Equity, Inclusion and Justice (DEIJ).
"Bill is known for his consistent work in initiating, facilitating and keeping our OCC community well-informed on a variety of DEIJ events around the College," said McFadden-Keesling and Clancy in their nomination. "He is quick to recognize and praise the efforts of his colleagues and works consciously to promote DEIJ across the College and raises issues of concern to leadership's attention."
OCC's 2021 Diversity Champion is Beverly Stanbrough, Dean of College Readiness. Stanbrough was nominated by Nahrein Atkinson and Cindy Carbone. Stanbrough has worked at OCC for 33 years and is known for her unwavering stance to put students first.
"Beverly works tirelessly on behalf of OCC students on committees, college initiatives, and within her own academic area," they said. "She has always been committed to ensuring consistent best practices are adhered to college-wide in the name of student success. She is one of the strongest advocates for incoming students, focuses on how the College can empower every student, and embodies OCC's mission to empower excellence across the College."
In addition to the Diversity Champions, Provenzano also noted the 2020-21 nominees recognized for their work in DEIJ by students and colleagues. They include, Eleanora Bagatelia, Director of Global Education; Edward Bowie, Custodian, Auburn Hills; Beverly Brown, Director of Secondary Partnerships; David Ceci, Dean of Public Safety & Director of Law Enforcement Training; Russ Davis, OCC Student; David Dell, OCC Public Safety Officer, Auburn Hills; Cheryl Neely, Sociology Faculty, Royal Oak; Quincy Norwood, English Faculty, Southfield; Suba Subbarao, English Faculty, Auburn Hills; Anthony Thomas, Counseling Faculty, Orchard Ridge.
Learn more about diversity, equity, inclusion and justice at OCC on College's website.
About OCC
Offering nearly 100 degrees and certificates, OCC is Michigan's largest multi-campus community college and No. 1 transfer institution in the state. The College provides academic, career training and enriching experiences, designed to empower students to reach their potential and enhance our community. More than 1 million students have enrolled in the College since it opened in 1965. A seven-person Board of Trustees governs OCC. Board members are elected on a non-partisan, at-large basis, serve as volunteers and are not paid. Mission statement: OCC is committed to empowering our students to succeed and advancing our community. Learn more at oaklandcc.edu.
###
Media Contact: Marketing & Communications | 248.341.2020 | contactus@oaklandcc.edu