Increased Opportunities for OCC Students, including internships and awards from U.S. Department of Defense
Oakland Community College has been named a partner in the Metro-Detroit Regional Vehicle Cybersecurity Institute, a regional-based cybersecurity consortium. The consortium, Led by University of Detroit Mercy (UDM), received a $1.12-million award from the United States Department of Defense (DoD) to establish the cybersecurity institute.
Developed in consultation with industry partners including OCC, this consortium is designed to expand and enhance the cybersecurity engineering workforce and supports upskilling and reskilling for vehicle cybersecurity by prioritizing underrepresented populations, military personnel and veterans. The group includes University of Arizona as a research partner and academic institutions in southeast Michigan including Oakland, Macomb and Washtenaw Community Colleges.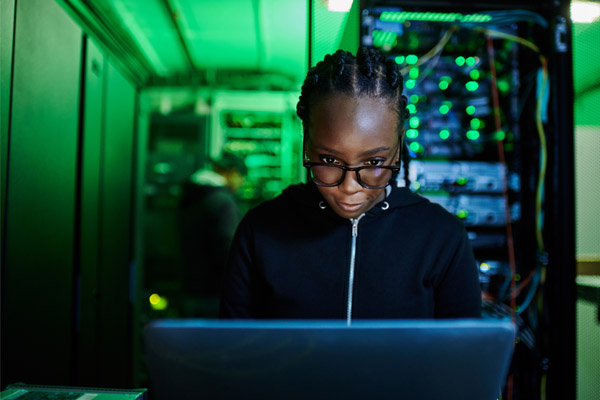 According to Ken Sigler, faculty member for OCC Computer Information Systems, Business and Information Technologies, this partnership provides a great opportunity for eligible OCC students to apply for significant award funding and a cyber-related internship.
"Eligible students who apply may qualify for up to $5,000 in direct funding from this initiative," Sigler said. "The amount of the award will be determined based on the number of eligible students that apply."
The award comes through Griffiss Institute's Virtual Institutes for Cyber and Electromagnetic Spectrum Research and Employ (VICEROY) program, which establishes cyber institutes at higher learning institutions with the purpose of critical cyber operational skill development for future military and civilian leaders.
OCC Associate Provost Joe Petrosky, who championed the connection with the University of Detroit Mercy through the grant partnership, explained eligible students also have the benefit of participating in a future internship opportunity aimed at expanding and enhancing the cybersecurity engineering workforce.
"The internship will be in one of several areas within the Department of Defense and is based on answers to questions provided in an online application," Petrosky explained. "Our students could land a paid internship, including travel expenses, in a range of technical cyber related areas."
Growing demand for cybersecurity engineers
According to the U.S. Bureau of Labor Statistics, employment of cybersecurity engineers is projected to grow 31% from 2019-29, much faster than the average for all occupations. In Michigan, the average pay for cybersecurity engineers in 2019 was $91,750, or $44.11 per hour.
Criteria to apply
Eligible OCC students interested in a career in cybersecurity are required to meet the following criteria for the funding and internship opportunity:
Be enrolled with a 3.0 grade point average or greater in OCC's Cybersecurity, Pre-Engineering, Computer Science or Homeland Security programs

Interested in pursuing employment within the DoD or the United States Government

Must enroll via the VICEROY portal and provide contact information for interest in future internship prior to application for award (internship in Summer 2023).

Must be a U.S. citizen

Apply by 5 p.m. Dec. 16, 2022
Students interested in applying should contact Ken Sigler for further information.
About OCC   
Offering nearly 100 degrees and certificates, OCC is Michigan's largest multi-campus community college and one of the top transfer institutions in the state. The College provides academic, career training and enriching experiences, designed to empower students to reach their potential and enhance our community. More than 1 million students have enrolled in the College since it opened in 1965. A seven-person Board of Trustees governs OCC. Board members are elected on a non-partisan, at-large basis, serve as volunteers and are not paid. Mission statement: OCC is committed to empowering our students to succeed and advancing our community. Learn more at  oaklandcc.edu. 
###
Media Contact:  Marketing & Communications | 248.341.2020 | contactus@oaklandcc.edu