Oakland County native Cristin Dougherty was only in second grade when she dreamed of being an author. Years later, that dream became a reality. She teamed up with her dad, Jay, to write and illustrate two children's books based on her travels around the world.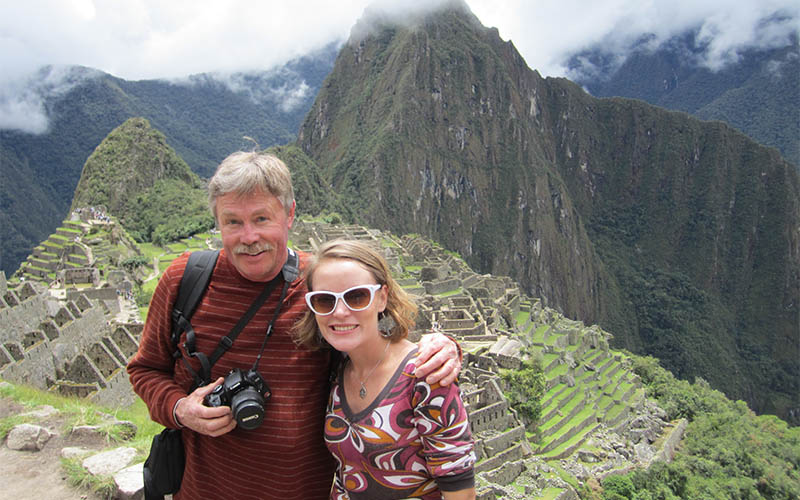 After starting at a regional university, Dougherty moved home to attend Oakland Community College and work as a waitress to pay for college. Both of her parents attended OCC at different times and her aunt, Janet Roberts, worked at the College as well.
She believes it was a "smart choice" to attend OCC.
"Over the years, I attended several colleges and universities and always felt that I got the most quality education at OCC," Cristin said. "Help was always available, classes were enjoyable and my time at OCC will always hold a very special place in my heart! I especially enjoyed my anthropology and communications courses there."
She transferred to Eastern Michigan University for a bachelor's degree in Spanish and French and then moved to Phoenix with a dream of working with new immigrants from Mexico. There she taught English as a Second Language, Spanish and French in elementary and middle schools. She then completed a post-baccalaureate teacher prep program and a master's degree in education from Northcentral University.
In 2012, her world adventures began when she embarked on a two and a half year sabbatical traveling and teaching business English in Buenos Aires, Istanbul and Paris. She has since visited 56 countries and hopes to "visit all countries on our beautiful planet."
During her travels, she kept a blog called "Cristin's Adventures" and still dreamed of becoming a published author.
Six years later, Dougherty's dream came true. While attending a retreat in the Peruvian Amazon, she stepped back and explored new things. The location, considered to be the most bio-diverse place on earth, inspired her to write "Call Upon the Fairies" about working with fairies to help our planet. She teamed up with her father, Jay, to create the illustrations and proudly states her dad had "always been an extremely talented photographer."
The senior Dougherty credits his time at OCC for expanding his creative talent and bringing his artistic abilities to life.
"I took a lot of photography classes at OCC before taking watercolor painting and drawing classes," he said. "Together, these classes helped with the design aspects of illustration, including painting and composition; gaining that knowledge was priceless."
He also believes working with his daughter was a "great excuse" to connect before and during the pandemic. With travel restrictions, the talented duo took advantage of the opportunity to write and illustrate their second book, "Magical Unicorns Around the World," which takes the reader on a trip around the world with unicorns to places such as Varanasi, India and Lumbini, Nepal.
"The books are a great project to share and gives us something we can explore and enjoy together," said his daughter. "It's been a lot of fun!" At least before the next adventure takes off!
Do you have a great alumni story to share? Contact marcomm@oaklandcc.edu.
About OCC
Offering nearly 100 degrees and certificates, OCC is Michigan's largest multi-campus community college and No. 1 transfer institution in the state. The College provides academic, career training and enriching experiences, designed to empower students to reach their potential and enhance our community. More than 1 million students have enrolled in the College since it opened in 1965. A seven-person Board of Trustees governs OCC. Board members are elected on a non-partisan, at-large basis, serve as volunteers and are not paid. Mission statement: OCC is committed to empowering our students to succeed and advancing our community. Learn more at oaklandcc.edu.
###
Media Contact: Marketing & Communications | 248.341.2020 | contactus@oaklandcc.edu