Jolene J. Chapman has been named OCC's academic dean of engineering, manufacturing and industrial technology (EMIT). As dean, Chapman will be responsible for the college's high-demand career education programs including automobile servicing and collision auto repair; industrial technology, robotics and technology sciences; computer-aided design and engineering (CAD); machine tool (CNC); HVAC and welding.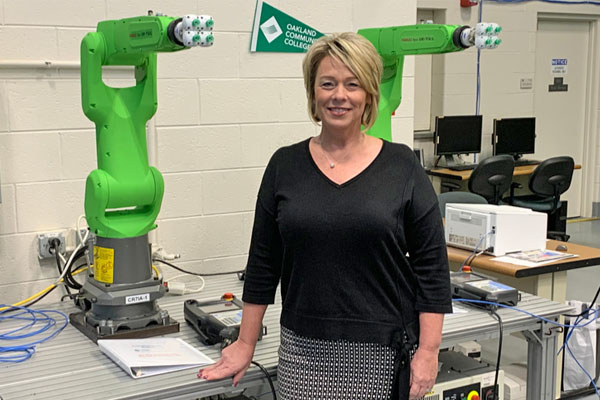 Chapman brings a wealth of experience as an academic administrator of career and technical programs at the community college level. Prior to joining OCC, she was the dean of career and technical education at Jackson College, Jackson, Mich. She also held a variety of faculty and administrative positions at Terra State Community College, Fremont, Ohio, including the dean of business, humanities and industrial technologies and the dean of business, communications and arts.
"Jolene's experience, education and enthusiasm are the right combination for the opportunities ahead of us in EMIT," said Joseph L. Petrosky, associate vice chancellor for academic affairs.
Chapman began her higher-education pursuits at Terra Technical College, where she earned an associate of applied science degree before earning a bachelor of business administration from Tiffin University and a master of arts in education from The University of Findlay.
About OCC
With multi campus system in Oakland County, OCC is Michigan's number one transfer institution, offering nearly 100 excellent degrees and certificates. The College empowers academic and developmental experiences, allowing students to reach their full potential and enhance the communities they serve. More than a million students have enrolled in the College since it opened in 1965. Learn more at oaklandcc.edu.
###
Media Contact: Marketing & Communications | 248.341.2020 | contactus@oaklandcc.edu