Before beginning his 45-year career at OCC, Robert Spruce was known in the U.S. Army as an audio specialist. With special secret clearance, he recorded trainings for high-ranking military officers and ceremonies. Little did he know that those skills would later help him land a job at OCC.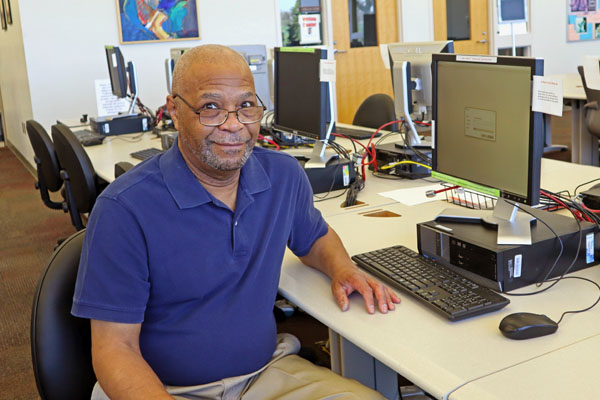 Robert Spruce
Spruce's journey to the College began in 1977 in a busy department requiring top specialists: Audio-Visual. OCC faculty would contact Spruce to set up equipment that many may remember, but won't see, inside today's classrooms. Equipment like movie projectors and reel-to-reel tape recorders.
Spruce worked at OCC's Royal Oak campus and former Oak Park location until the College's Southfield campus opened in 1980. He continues to work there in his job as a paraprofessional in the Academic Support Center (ASC).
During his four decades at OCC, Spruce has seen plenty of changes, but one thing that hasn't wavered: his commitment to help OCC students succeed.
"The best part of the job is being able to help students," said Spruce, who received an associate degree from OCC. "Seeing them get a good grade in a class or on a test is a good thing."
Employees at the heart of student success
Spruce was one of approximately 150employees and retirees recognized Friday, April 14 during an anniversary and retirement event at the College's Orchard Ridge campus. About 50 employees attended the first in-person event since COVID.
"I truly believe our employees are at the heart of OCC and everything we do," Chancellor Peter Provenzano told the crowd. "Through your many years of service working side by side with our students, they are able to continue to achieve and reach the success they are looking for."
Spruce was recognized as the employee with the most years of service. As an ASC parapro, he has helped students with everything from how to use a computer with a floppy disc to now registering for online classes.
"Our job is to be sure our students get the help they need to succeed. There are times when I just talk to students, listen to what their issues are and give my perspective on a problem they may have been having," Spruce said. "When they come back and say thank you so much for the advice or helping them with their coursework, that's enjoyable."
Employees and retirees share memories
During the event, several employees and retirees shared their own memorable moments at OCC. Former counselor Leonard Cole recalled working in 2003 with a Nigerian student, who returned to OCC years later asking him to be her daughter's counselor. After graduating from OCC, the mom earned a bachelor's degree at a college in Maine and the daughter is studying political science at the University of Michigan.
"Being here nearly 45 years gave me an opportunity to not only work with students but on a generational level," he said. "It was a great experience."
Below are the employees and retirees recognized for their years of service at OCC and a link to the video about the event.
2022 OCC Milestone Honorees
45 Years
Robert Spruce – Paraprofessional, Academic Support Center (SF)
40 Years
Mike Halaburda – Campus Facilities and Energy Manager (HL)
35 Years
Robert Kangas – Faculty, Photography (RO)

Maria McCarthy – Auxiliary Services Manager (AH)
Alexander Murdoch - Paraprofessional, Academic Support Center (OR)
Catherine Sorenson – Student Services Specialist (HL)
Brenda Townsend – Mailroom Shipping & Receiving Clerk (AH)
30 Years
Larry Blenc – Facility Technician (AH)

Lisa Braun – Administrative Specialist II (AH)

Holly Broesamle – Faculty, Mathematics (AH)

Staci Cohen – Accounting Specialist II (AH)

Pamela Janczarek – Program Coordinator, Economic & Workforce Development (AH)

Charisse Neal – Administrative Assistant (AH)
Alicia Paramo-Dionne – Faculty, Counseling (AH)
Mary Sevegney – Administrative Specialist II (HL)
Steven Stott – Facility Technician (AH)
25 Years
Sandra Bachert – Director of Economic & Workforce Development (AH)

Keri Bradsher – Materials Specialist (AH)

Scott Cardinale – Craftsman (AH)

Kimberly Davis – Paraprofessional, Academic Support Center (RO)

James Greig – Craftsman (OR)

Jennifer Smith – Supervisor, Buildings & Grounds (SF)
Robert Spann – Dean of Enrollment Services (OR)
20 Years
Jessica Baughman – Associate Director of Financial Operations (AH)

David Board – Public Safety Officer (OR)

Lisa Byrne – Faculty, English (OR)
Lloyd Crews – Faculty, Political Science (SF)
Cathryn Farmer – Administrative Specialist I (AH)
Douglas Ganhs – Faculty, Culinary (OR)
Karen Johnson – Financial Aid Advisor (RO)
Kathleen Kelly – Administrative Assistant (DO)
Kimberly Lambouris – Student Services Specialist (AH)
Brian Larmor – System Administrator (AH)
Vicki McNiff – Faculty, Counseling (OR)
Joanne Roth – Faculty, Mathematics (OR)
Rene Rubenacker – Secretary (OR)
Carrie Smith – CRM Program Coordinator (AH)
Michael Vollbach – Faculty, History (RO)
William Walz – Facility Technician (OR)
Camille Ziolek – Faculty, English (OR)
15 Years
Robert Andersen – Faculty, Humanities (AH)

Amy Baker – Accounting Specialist I (AH)

Athena Bolger – Faculty, Culinary (OR)

Aqueta Colvard-Parrish – Paraprofessional, Computer Information Systems (OR)

Wendy Conway – Faculty, Mathematics (HL)
Stacey Crews – Dean of Student Engagement (RO)
Aletia Droba – Faculty, Philosophy (RO)
Kelly Flores – Faculty, Sign Language Interpreter (HL)
Richard Lamb – Faculty, Biology (SF)
Emily McAllister – Faculty, Mathematics (HL)
Mary Moon – Faculty, Communication (AH)
John Nagalski – Superintendent, Buildings & Grounds (AH)
Michael Robinson – Faculty, Academic Support Center (AH)
Julie Seiler – Faculty, Economics (OR)
Mary Thomas – Secretary (HL)
Mary Volckaert – Custodian (SF)
André Winnette – Superintendent, Buildings & Grounds (OR)
Crystal Young-Collins – Administrative Specialist II (AH)
10 Years
Lorenzo Brown – Facility Technician (AH)

Nicholas Conti – Faculty, Mathematics (OR)

Brian Elkins – Financial Aid Specialist (AH)

Amy Fairless – Student Services Specialist (AH)

Joanne Forbes – Faculty, Sign Language Interpreter (HL)

Samantha Haleks – Mailroom Shipping & Receiving Clerk (SF)
Anthony Hart – Groundskeeper (RO)
Barbara Hoag – Faculty, Mathematics (AH)
Randall Huff – Administrative Specialist II (HL)
Lajerricka Jefferson – Custodian (OR)
Benjamin Lucio – Groundskeeper (AH)
Bernadette McAllister – Faculty, Computer Information Systems (AH)
Carlespie McKinney – Faculty, Business (RO)
Brenda McNeary – Paraprofessional, Art (RO)
Andrew Miller – Groundskeeper (HL)
Quincy Norwood – Faculty, English (SF)
Israel Odeka – Grounds Keeper (OR)
Donnald Ostrom – Custodian (AH)
Seema Patil – Financial Aid Specialist (AH)
Trina Pierce – Career Services & Cooperative Education Assistant (AH)
Rashonda Pierson – Payroll Specialist (AH)
Daniel Preisler – Faculty, Mathematics (OR)
Sheila Reed – Custodian (AH)
KimberLea Reid – Administrative Specialist I (AH)
Daniel Rivard – Custodian (OR)
Albert Rucks – Custodian (OR)
Jennifer Shelbourne – Faculty, Dental Hygiene (HL)
John Short – Custodian (OR)
Barbara Stanhouse – Paraprofessional, Biology (SF)
Robyn Tennison – Faculty, Communication (HL)
Janaida Turner – Accounting Specialist I (AH)
Lauren Williams – Materials Specialist (HL)
Amber Willits – Paraprofessional, Computer Information Systems (OR)
2022 Retirees
Kent Aeschliman – Faculty, Mathematics (HL)

Peter Anderson ­– Faculty, Physics (HL)
Dawn Baker – Faculty, Nursing (HL)
Carol Benson – Faculty, Librarian (RO)
Alex Bezvik – Technical Webmaster (AH)
Sandra Bradley – Faculty, Computer Information Systems (AH)
Retha Bragg – Faculty, Nursing (HL)
John Brooks – Paraprofessional, Automotive (AH)
Rhonda Brown – Faculty, Counselor (OR)
Robert Bruhn – Faculty, ESL (AH)
Paula Catanzaro – Paralegal (DO)
Leonard Cole – Faculty, Counselor (RO)
Elizabeth Drumm – Faculty, Biology (OR)
Diann Dupuis – Administrative Assistant (AH)
Lisa Durak – Faculty, Mathematics (OR)
Thomas Dzendzel – Public Safety Officer (RO)
Renee Fox – Faculty, Dental Hygiene (HL)
Teresa Garcia – Faculty, Nursing (HL)
Beth Garlock – Faculty, Counselor (AH)
Allan Gibson – Groundskeeper (AH)
Judy Hayes – Faculty, Medical Assisting (HL)
Lynne Hitchcock – Faculty, Chemistry (SF)
David James – Faculty, English (OR)
Deona Jennings-Bowen, Student Services Specialist (OR)
Russell Karman – Chief, Campus Facility Operations (RO)
Richard Koblin – Faculty, Biology (SF)
Doug Kolly – Program Coordinator, Paralegal (OR)
Barbara Konopka – Faculty, Physical Education & Recreation (AH)
Margaret Lambert – Faculty, Accounting (AH)
Ian Leath – Faculty, Computer Information Systems (OR)
Mary-Jo Lord – ACCESS Coordinator (AH)
Judith Matteson – Faculty, Computer Information Systems (AH)
Allison McFadden-Keesling – Faculty, Librarian (HL)
Mary Ann McGee – Faculty, Psychology (OR)
Debra McGuire – Custodian (SF)
Michele Merritt – Faculty, Biology (AH)
Steven Ogg – Athletics Coordinator (AH)
Carlos Olivarez – Faculty, Counselor (AH)
Janet Peart – Faculty, Mathematics (AH)
Lori Przymusinski – Vice Chancellor for Student Services (AH)
John Regorrah – Public Safety Officer (SF)
Kathleen Reilly – Faculty, English as a Second Language (RO)
Elaine Reuter – Secretary (AH)
Rodney Roberts – Facility Technician (AH)
Debra Rowe – Faculty, Psychology (RO)
Daniel Rowlson – Faculty, Culinary (OR)
Kathryn Schulte – Faculty, Nursing (HL)
Willie Shells – Custodian (AH)
Nancy Shockley – Faculty, History (RO)
Lisa Skowronski – Dean of Student Services (HL)
John Sloan – Faculty, Counselor (SF)
Susan Spelker – Accounting Specialist I (AH)
Kathryn Stewart-Hoffmann – Faculty, French (OR)
Mary Ston – Faculty, Accounting (HL)
Sandra Thomas – Programmer Analyst (AH)
Gheorgita Tres – Faculty, Spanish (AH)
Alice Walaskay – Faculty, Librarian (OR)
John Wells – Public Safety Officer (HL)
Martha Williams – Access Specialist (SF)
Thomas Zakrzewski – Faculty, Computer Information Systems (HL)
Employee Recognition Event Video