Alliance for Excellence in Online Education honors faculty for teaching excellence during the pandemic
Evelyn Chan understands firsthand the challenges students face with online classes. A few years ago, she enrolled as a graduate student in an online course and has integrated that mode of learning into her own courses to ensure her students' success.
Those lessons provided insight and advantage to Chan's Business students. And, they continued to pay off as she was recently named 2021 Faculty Member of the Year award by The Alliance for Excellence in Online Education for teaching excellence.
On Friday, May 21, Chan was one of an elite group of college faculty across the region honored at the 2021 Distinguished Online Faculty Award Ceremony – Celebrating Best Practices in Online Education. The event was held online, of course. The award is given to faculty leaders who have demonstrated instructional quality and contributions to their curricular development, positive effectiveness in student learnings, and presented quality strategies to better guide their students in a dynamic online environment.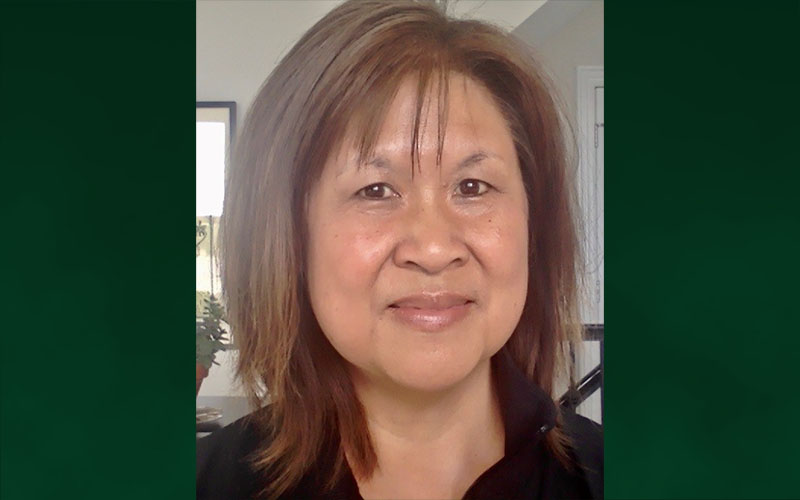 Chan was honored for displaying the highest levels of teaching excellence during the pandemic. She was noted for quickly pivoting her Introduction to Business course to an online format after completing a rigorous training program through OCC's Academic Technologies Group shortly before the pandemic hit. During the summer of 2020, she converted the remaining four business courses she teaches to an online format.
Thomas Hendricks, OCC Academic Dean Academic Affairs, said Chan is dedicated to her students and the department.
"Evelyn is one of the sweetest, most humble people you would ever meet," he said. "When we transitioned to remote, Evelyn took a great deal of time to make sure she was communicating with all students on a regular basis. She made a point to connect individually with each student on their level and find out what they were doing to make sure they were all up to speed."
"I was completely surprised (by the award)," Chan said. "I feel honored to receive this award and to be part of the faculty at OCC. We have a wonderful support structure with all sorts of resources at the College that enable us to do our job well. We are also fortunate to have such adaptable, resilient students."
Chan joins OCC colleagues, Tony Racka and Suba Subbarao, as past winners of the Faculty Member of the Year by The Alliance for Excellence in Online Education. Winners are chosen by officers of the association's steering committee and receive a commemorative plaque and traveling plaque for the college. In addition, the award winner's college receives a monetary donation to the scholarship fund of their choice.
###
About OCC
Offering nearly 100 degrees and certificates, OCC is Michigan's largest multi-campus community college and No. 1 transfer institution in the state. The College provides academic, career training and enriching experiences, designed to empower students to reach their potential and enhance our community. More than 1 million students have enrolled in the College since it opened in 1965. A seven-person Board of Trustees governs OCC. Board members are elected on a non-partisan, at-large basis, serve as volunteers and are not paid. Mission statement: OCC is committed to empowering our students to succeed and advancing our community. Learn more at oaklandcc.edu.
Media Contact: Marketing & Communications | 248.341.2020 | contactus@oaklandcc.edu